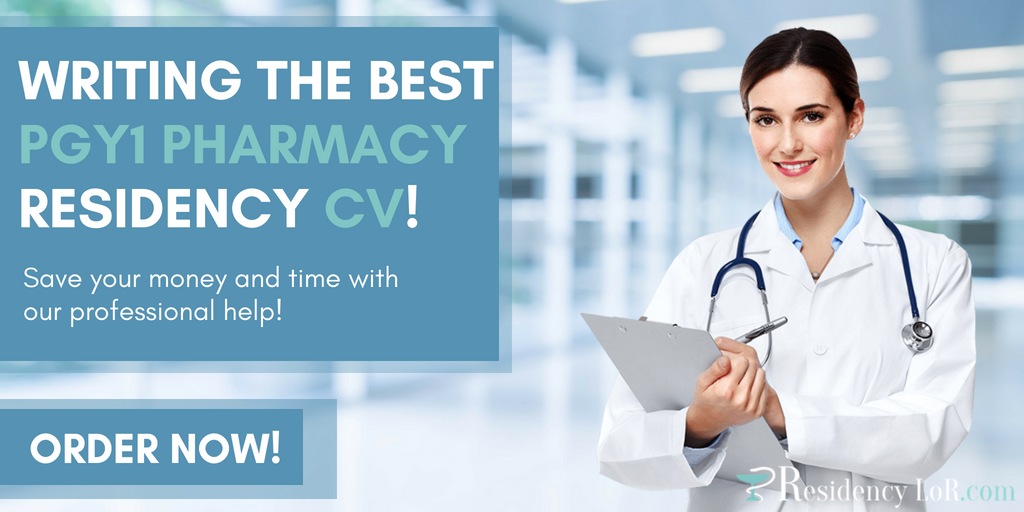 Writing the Best PGY1 Pharmacy Residency CV
The PGY1 pharmacy residency CV is one of the key requirements for securing admission into a residency medical program. Understanding how to write a winning PGY1 residency CV can make all the difference between several attempts, rejections or scaling through the residency medical programme hurdle. See a sample LoR for residency to guide your application on our site.
PGY1 refers to your first year in a post-graduate pharmacy residency programme. Once you have attained a degree in the pharmacy the PGY1 helps you improve your knowledge and skills in medication therapy and the use of medication for patients covering a broad category of diseases.

Requirements and Expectations for PGY1 CV & Pharmacy Residency Programme
Your PGY1 CV should ordinarily be a maximum of two pages and should outline your personal details, educational qualification, career goals, skills and general profile. It is an avenue to sell your skills to the decision-makers in the institution of your choice of PGY1.
The letter of intent helps applicant state the reason for applying to the institution and what makes this institution of value to the applicant's PGY1 goal. It also avails an applicant the opportunity to state what skills and qualities he or she intends bringing into the programmes and how they could be harnessed for making the institution and the society a better place in the future. Show how passionate pharmacy is to you and how a particular aspect of the course in the institution will help you achieve the sparks for the course.
Letters of Recommendation
Depending on the institution of choice your residency LoR should either be two or three written by different individuals. A faculty member, preceptor, supervisor or instructor during your academic programme can write a letter of recommendation stating skills, characteristics and whether or not they think you will fit for a PGY1.
Pharmacy Degree & Transcript
To qualify for a PGY1 programme each applicant must present proof of having completed a degree in pharmacy from an accredited ACPE institution. You must also submit a copy of the transcript to the institution while submitting the PGY1 residency CV even for medication related specialization.
Candidates for PGY1 should also register for American Society of Health-system Pharmacists (ASHP) resident matching programme.
The applicant must either be a US citizen or possess a valid VISA or residency permit to run the PGY1 programme.
Eligibility for Pharmacy License
The applicant must meet all the requirements for consideration for a license to operate as a pharmacist.
The whole application process and documentation only get you a chance to participate in the on-site interview.
Importance of Writing an Excellent PGY1 Pharmacy Residency on CV
For PGY1 pharmacy residency on CV, a well-written and formatted CV can attract attention from any member of the board of certification and increase your chances of selection.
It makes you look serious, organized and fit for the herculean range of conditions or task for a PGY1 programme.
It can help outline your most relevant skills and experiences for consideration.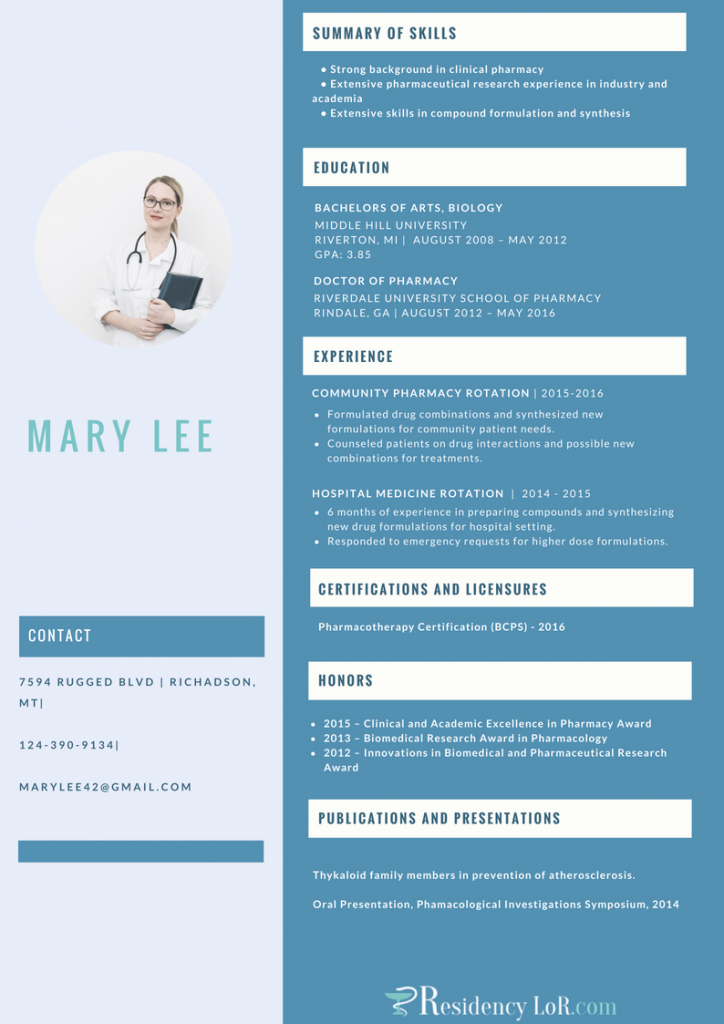 How to Write the Best Residency CV with PGY1 Pharmacy Residency CV Examples
Keep it short and simple (KISS): Focus on the most vital details that help sell you and not load your CV with all manner of qualifications and experiences.
Well-formatted CV: Make use of precise and concise headings to present the information on your CV in a chronological order, such as personal details, work experience, education, skills & achievements, etc. please see site for PGY1 pharmacy residency CV examples and how to pick skilled preceptors, faculty members, etc. for LoR.
Avoid verbosity and ambiguity: Make sure the information on your CV flows naturally and easy to read. Use appropriate font sizes and characters.
How We Can Help with PGY1 CV Writing Service
Expert PGY1 CV writing service: Our CV writing experts all possess no less than a decade-long experience writing a CV for PGY1 pharmacy residency programmes. Because some of our writers have the first-hand experience with PGY1 board certification procedure, screening, and interview, we can guarantee excellent CV writing service.
PGY1 editing help: If you prefer writing your PGY1 residency CV we also recommend getting professional help to look at your CV before submission. We can help edit your CV, taking care of all unwanted materials that might reduce the chance of your residency CV from being accepted by the committee.
PGY1 formatting service help: Excellent writing of your PGY1 CV is as important as how well you format the CV. And because we have done this for several years with clean knowledge of what it takes to meet the guidelines for each institution, we can help you craft the best PGY1 pharmacy residency CV.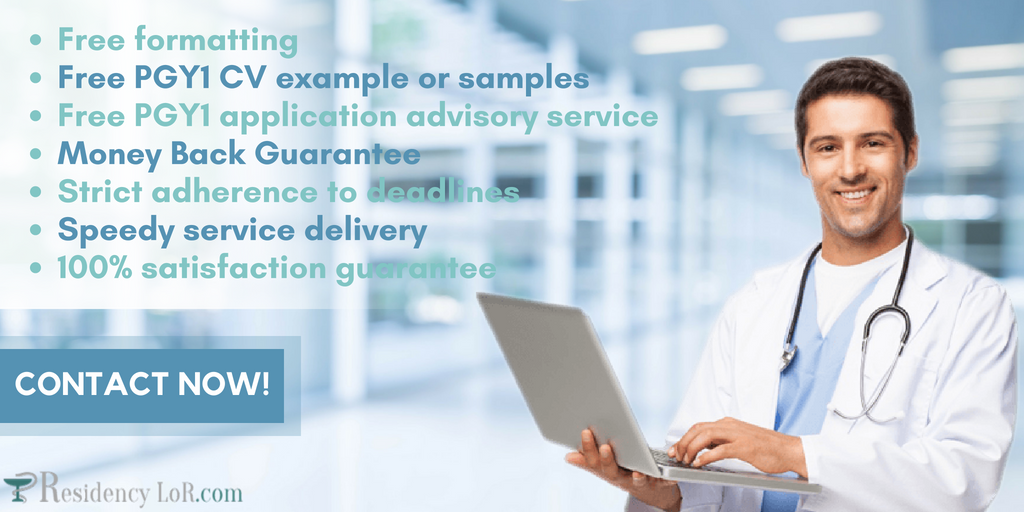 Benefits of Using Our PGY1 CV Example and Pharmacy Residency CV Writing Service
Free formatting
Free PGY1 CV example or samples
Free PGY1 application advisory service
Money Back Guarantee
Strict adherence to deadlines
Speedy service delivery
100% satisfaction guarantee
You can also check out an interesting article about top internal medicine residency programs, such as UC San Diego, UC Davis, and UCLA internal medicine residency program!
Place an order today for PGY1 pharmacy residency CV writing service help and let's help you stand out with the application process!