A letter of recommendation for family medicine residency primarily supports the candidacy of applicants for either a job or an affiliation with a program. Letters of recommendation for residency must come from individuals who know the applicant well enough to support his or her ability to cope up with the rigors of a medical job or a medical training.
Evaluation of Letters of Recommendation for Residency
Letters of recommendation for residency are assessed by members of the admission committee who look for certain qualities in applicants like: character, commitment to medicine practice, motivation and maturity. Consequently, family medicine LoR from friends and family members are not accepted.
Recommendation letters must be able to articulately express important information about the applicant's qualifications, skills and personality traits. Letters from current and past employers or supervisors, with whom the applicant has worked with extensively, are the ones who can provide an in-depth description of the applicant's inherent traits both professionally and personally.
Other Family Medicine LoR Requirements
Applicants for residency are required to submit three letter of recommendation for family medicine residency. In some instances, a family medicine letter of recommendation that can be obtained from a committee is adequate enough to meet the three letters of recommendation. However, a letter from a medical physician or medical supervisor in addition to the committee's recommendation letter is still mandatory to attest to your professional capabilities.
Submission of Family Medicine LoR
Different residencies require different form of recommendation letters. Family medicine letter of recommendation must come from a family physician whom the applicant has worked with or who have known the applicant fairly well for a certain period.
Writers who know the candidate or applicant fairly well will be able to create an excellent recommendation letter, which is opposed to those who are not acquainted with the applicant either professionally or at least personally.
Letters must be submitted on time, which is why applicants need to request their letters of recommendation before the actual submission of their applications. Should some of the sources for the recommendation letters be unable to give the letters on the agreed date, subtly remind them after a day or two.
So it is important to give ample time between dates for requesting the letters and taking them for submission. Remember that these individuals are also busy and sometimes your requests are unintentionally overlooked. Once the letters have already been given, remember to thank the writers for writing the letters since this is a favor and not an obligation on their part.
The most essential factor in both the family medicine LoR and
pathology letter of recommendation
is the field of specialty of the applicant. All or almost all the skills and qualifications indicated therein must be relevant to the specialty program being applied for. Any discrepancy must be eliminated early on by providing adequate and updated information for the recommendation letter writers.
Since letters of recommendation are vital parts of the application process, applicants must take every effort to complete and submit them on time along with the other important documents for the application.
Quality letter doesn't simply list details or restate your resume

Multiple specialties, one solution
If you're applying for several residency programs, we will tailor your letter to each. It will tremendously boost your admission chances.

Adherence to ERAS® requirements
All residency recommendation letters are written by our experts in compliance with the ERAS® application system standards.

Money-back policy
In case of issues with quality, delivery, and so on, you can ask us for repayment.

No templates, only custom LoR
You'll be offered to fill in a questionnaire for us to write relevant personalized text.
We hire medical authors with an immense writing background and a relevant degree
Top 10 Professional Family Medicine Letter of Recommendation Writing Tips
Letter of recommendation for family medicine plays a crucial role in a student's admission chances. And getting the right person to write your letter of recommendation or saying it in the appropriate manner can say a lot about your chance of success. Here are some tips to help you get started with your LoR for family medicine:
Pick the right person: You need to be cautious about your choice for a person to write the letter of recommendation. Such a person should be able to read your profile, resume and personal statement to pick the vital facts about you in writing the family medicine letter of recommendation.
Begin early enough: Waiting till the last minute to get help with writing your letter of recommendation might end up making things clumsier for you. Starting early would give the person to write the LoR enough time to ponder on your letter and write according to the instructions.
Pick a writer from your medical specialty: Instead of from any other practice, a writer from the same specialty can better convey an understanding of your subject area, might have worked with you before and might carry more weight.
Only work with professionals: Asking family and friends to write a letter of recommendation might just not fit into part of the requirements except they share professional links with you as well.
Familiarity level: Work with a writer who knows a lot about you based on their relationship and works with you as they would be able to make it reflect in your work.
Number of pages: The letter of recommendation should be about one to two pages. Writing a LoR of less than one page can make you appear unserious.
Transforming weaknesses: A professional LoR writer would understand how to make your weakness seem like strength by talking about your shortcomings as well as how you have learned to overcome them in the passage of time.
Structure of letter: The letter should have the introduction, body, and conclusion with the introduction helping to capture the attention of the readers. It should focus on how long you have known the applicant and to what extent.
Achievements and skills: Identify the key skills such as leadership, teamwork and interpersonal skills that the candidate has deployed in the past to succeed in such field.
Avoid ambiguity: Avoid the use of phrases and words that do not say much about the candidate. Ambiguous or vague words have nothing concrete to say about the candidate.
Expert Advice on Writing Family Medicine LoR
Relevant Specialty
A letter of recommendation from a person with a related specialty as the one you intend to study carries more weight than from a different specialty.
Organize Your Letter Appropriately
Make your letter look presentable and formal by making the paragraphs as brief as four or five lines only and in total the paragraphs should be about 7 to 8 maximum. Do not write with multiple subheadings but a straight free-flowing letter with paragraphs.
Avoid Exaggeration or Vague Writing
It would be better to come out plain than to blow your trumpet out of proportion. The Letter of recommendation should give glowing tributes to your skills and achievement but not to exaggerate or use vague concepts that cannot be quantified.
Editing, Proofreading, and Formatting
You need to pay attention to errors in spellings, grammar and more. Also, ensure your letter uses the appropriate font character, size, and margins.
Seek Professional Help
If your writer does not have the needed skill to write an exceptional letter of recommendation you can rely on professional help like that of our services to do the work.

Get the price reduced
by 20%
Why Get Professional Help?
What you deserve for your letter of recommendation is the right expert who understands perfectly how to write the family medicine LoR and that's what we offer you today: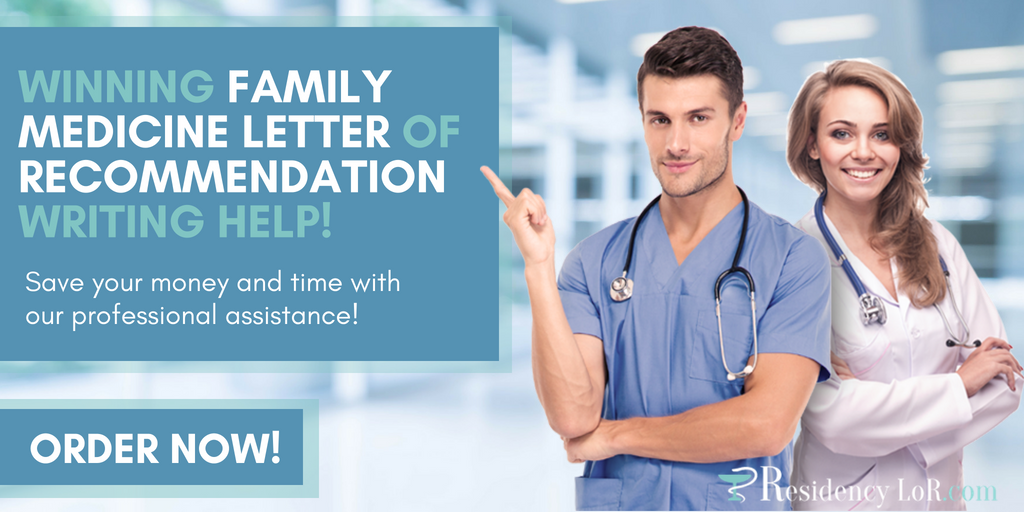 Professional LoR: Our team of professional family medicine letter of recommendation writers ranks as some of the best when it comes to writing your letter of recommendation. They have decades of hands-on experience and advanced degrees in relevant medical specialties to guarantee you get only a professional residency letter of recommendation.
Quick delivery time: At our service, we take your deadlines seriously and even go a step ahead to surpass them. So, just send in your LoR writing task and see how fast we deliver without delays- quick turn-around time.
Work confidentiality: We think you deserve the secrecy and the right to only give out your information to those you choose. Therefore, your information remains concealed with us as no third party or unauthorized personnel can lay a finger on your information.
Money back guarantee: Yes, we do make a refund but in line with our return policy and when you do not get a satisfactory LoR delivered. But first, we do everything possible to carry out unlimited revisions to satisfaction.
Exclusive discounts: We don't come cheap but considerate about your expenses hence we always throw in something less demanding on you by offering discounts on the current task.
Contact with your writer: We want you to learn the rudiments of writing a letter of recommendation as well as boost your confidence in our processes. Therefore, we allow you to maintain regular contact, getting updates from your expert writer to help achieve an awesome job with you involved.
Immediate customer support: Put all call through and have one of our eager customer support staff smiling to pick your calls. Do live chats or an email to us and watch as our ever ready staff offer prompt answers to all your inquiries and more.
So if you need a professional family medicine letter of recommendation, get in touch right away!