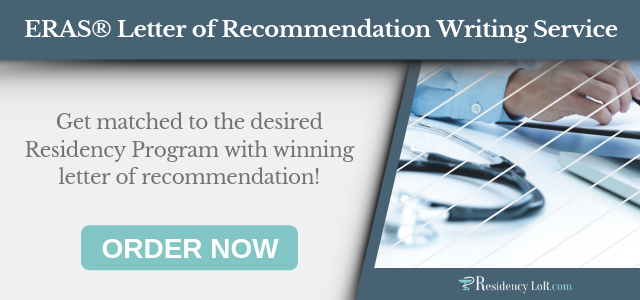 Writing Your ERAS® Letter of Recommendation
The ERAS® letter of recommendation should be constructed in favor of the applicant. The writer needs to make sure to include the best assets of the person so that it can strengthen his application. The letter of recommendation for residency should also be constructed in compliant to the ERAS® LoR.
ERAS® LoR length: The LoR length is one page, but some schools or programs accept two pages LoR, especially if the program requires some things to be included in the letter.
The Electronic Residency Application Service or ERAS® is the best place to submit your application for a residency program because it can deliver your application to various schools that are offering the program that you are interested in once all requirements are completed. For those who want to pursue the residency, you will need to sign up with MyERAS where you will be uploading all documents required such as your personal statement, USMLE scores, an official transcript of records from your previous school, as well as letters of recommendation from professors and colleagues alike. For those who are asked to write an ERAS® residency LoR, it is always a good idea to start writing your draft as early as possible so your memory of the individual will be fresh, not to mention that you will have more time to rewrite your letter until you are satisfied with the outcome.
ERAS® Letter of Recommendation Sample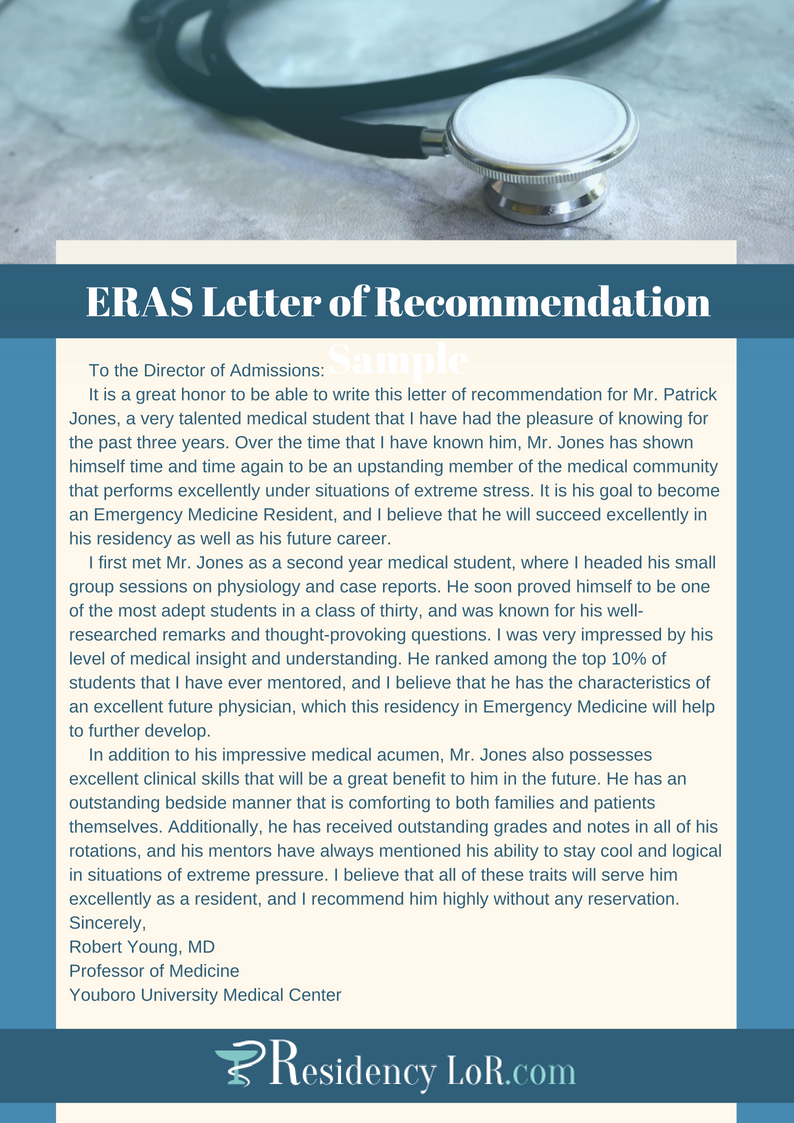 Why Is ERAS® Letter of Recommendation Important?
What's so important about the letter of recommendation for residency that it should be included in your residency application? The letter of recommendation is often required by schools so they will get an idea on who the applicant is and why they are suited for the program based on the recommendation of others. Most letters of recommendation are written by former teachers who have seen the development of the student or, in the case of those who have entered the medical field already, by colleagues who the applicant have worked with.
In ERAS® residency application, the applicant won't have any control over what the author gets to say about them because it is the author who will be submitting the letter instead. The question, however, is how you can make your LoR contribute to the applicant's chances of getting accepted into the program.
Uploading Letter of Recommendation ERAS®
In order for your letter of recommendations ERAS® available to programs, you need to confirm the upload of your LoR and assign the letters to programs in MyERAS. The recommendation letters should be submitted online to the system required by the program.
How many LoRs ERAS® to submit: There is no limit on how many letters of recommendations you will submit to the ERAS, but make sure to check the website of the program, whether they require you to submit three or four letters of recommendation coming from a chair, dean and faculty members. Be sure to know when the ERAS® letter of recommendation deadline is so that you can submit it on time as well.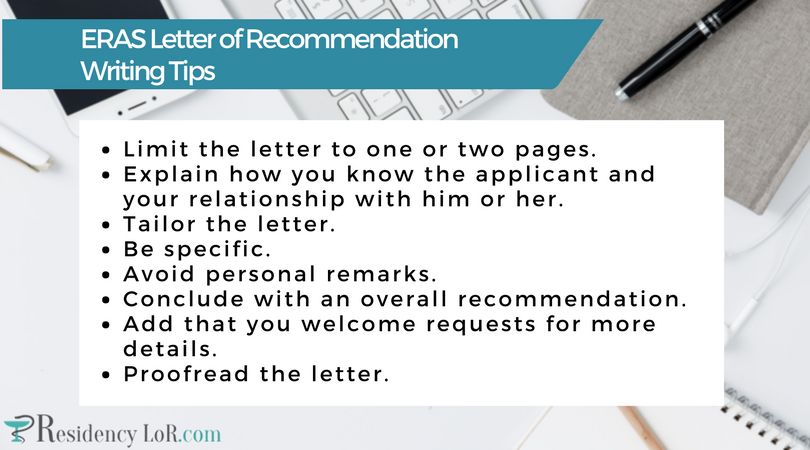 How to Write Letter of Recommendation for ERAS®
For those who are asked to write a LoR, here are a few tips to take into consideration.
Know the student. If you want to deliver a well-written letter of recommendation, you need to get to know the student thoroughly. You should assess the strengths and weaknesses of the applicant so you will know how to form your letter accordingly.
Limit the number of pages. Although extolling the skills of the applicant can help his or her bid to get noticed, your letter shouldn't go beyond two pages.
Explain how you know the applicant. When writing a letter of recommendation, it is important that you state in your letter how you knew the applicant. Is it in an academic, research, or clinical setting? How long did you know them?
Customize your letter. It would help if you know what program the applicant is interested in so you can tailor your letter accordingly. You can focus on their strengths, their experiences, as well as their qualifications for the program.
Give details. When writing the letter of recommendation, it is important that you be specific in your explanation. Don't be vague because this will not give any clarity to the skills of the applicant.
Don't give any personal remarks. It's important that you avoid writing any personal information about the applicant unless you think it will help their bid to be accepted into the residency program.
Share your recommendation. You should share with your readers why you think the applicant is worth considering for the program at the end of your letter. Focus on their unique abilities as much as possible.
Welcome inquiries. End your letter by stating that you welcome any other inquiries regarding the applicant as this will show confidence in the abilities of the applicant.
Always proofread your work. Make it a point to go over your letter several times to ensure that there are no errors and that everything you have written is factual.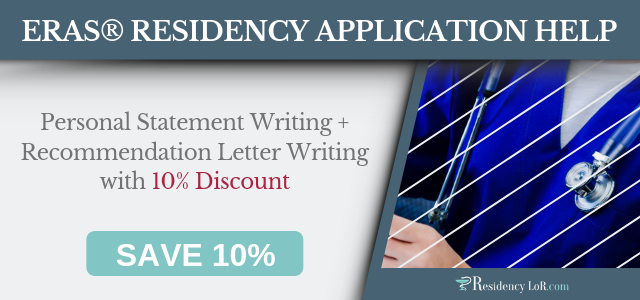 Professional Tips on ERAS® Letters of Recommendation Writing
Limit the letter to one or two pages.
Explain how you know the applicant and your relationship with him or her: If you are asked to write a recommendation letter for residency application, it is essential to state how long you have known the applicant. In this manner, the committee will have an idea that you know the applicant well.
Tailor the letter: Give the reader a sense of the candidate's potential as a future physician. Some of the certain areas to comment include analytical skills, intellectual ability, communication skills, attitude toward learning, personal achievements, persistence and initiative motivation.
Be specific: Provide specific examples of your observation as well as stories about your experience with the applicant reflecting her/his professionalism, leadership, clinical acumen, interpersonal and potential skills as well as a passion for medicine.
Avoid personal remarks: In writing, avoid mentioning race, age, marital status, ethnicity, and number of children, personal and physical characteristics. In some instances, you believe that it is essential to the applicant's potential and performance, get permission to the applicant if she or he wants those details to be included in the letter.
Conclude with an overall recommendation: Make sure to indicate how well qualified the student for the residency as how he can become a great future physician. You can make a comment about whether you would choose the applicant for the residency program or not if you were to choose.
Add that you welcome requests for more details: It is important to include your contact details if you do not include it in the letterhead
Proofread the letter: You need to pay attention to the spelling of the candidate's name. If you are using a template, be sure to change the name in the letter.
All You Need to Know about ERAS® Letter of Recommendation Format & Requirements
Address the letter to "Dear program director".
Include student's AAMC ID number in the letter.
Make sure to spell the name of the candidate correctly.
Sign the letter, either by signing scanning or printed copy.
Put the letter on official letterhead.
Save the letter as PDF file.
Letter writers must upload the recommendation letters in PDF format via ERAS® portal link. The candidate should give the letter request form, which includes a unique identifying number for the letter and instructions for uploading.
Letter requirements: In accordance with the university policy and federal laws, authors of recommendation letters should refrain from comments about color, gender, race, age, religion, marital status, sexual orientation, citizenship, national origin, political affiliations or medical condition of the applicant.
The letter of recommendation for fellowship should include the complete name of the applicant preferably in the first paragraph.
LoR should not reference a particular program or institution.
Letter of recommendation should be word-processed or typewritten. It is better to check what the program requires when it comes to LoR formatting.
LoR should be printed on professional letterhead.
Recommendation letter requires the signature of the writer. The writer should use black or blue ink for clear scanning.
The recommendation letter should not include MCAT scores.
A recommendation letter should conclude with identifying personal details: full name, mailing address, and title institution, email address and telephone number. For given email, a confirmation will be sent informing that the program received the letter.
Getting a Professional ERAS® LoR Help as a Solution
Are you worried that your ERAS® letter of recommendation isn't as good as you want it to be? This is not really surprising because there is the pressure of producing a well-written letter that will contribute to the success of the applicant in being considered for the program that they are after.
One solution to this is to enlist the help of a professional writing service to get your point across. This is where our service can help you with because we have extensive knowledge of how letters of recommendation should be written. All that you have to do is give us details about the student, what you want to appear in the letter, and we'll start working on it for you.
ERAS® Letter of Recommendation Writing Services
If you want to get into the residency, you can ask for professional help. Good writers know about the most important details to include confirming an applicant's skills and fitness for the program. Their ERAS® letter of recommendation writing service can help in increasing the applicant's chances of being selected.
Checking for an ERAS® letter of recommendation sample will help you understand what to know in writing. You can also ask them for a sample ERAS® letter of recommendation to get an idea of how they write an impressive LoR. Overall, you can ask for a sample LoR for residency pediatric from the pros and then ask them to write the letter for you if you think you cannot write it impressively yourself.
Submit an impressive ERAS® letter of recommendation written by the well-qualified writer!