Quality letter doesn't simply list details or restate your resume

Multiple specialties, one solution
If you're applying for several residency programs, we will tailor your letter to each. It will tremendously boost your admission chances.

Adherence to ERAS® requirements
All residency recommendation letters are written by our experts in compliance with the ERAS® application system standards.

Money-back policy
In case of issues with quality, delivery, and so on, you can ask us for repayment.

No templates, only custom LoR
You'll be offered to fill in a questionnaire for us to write relevant personalized text.
We hire medical authors with an immense writing background and a relevant degree
Get Perfectly Formatted Letters of Recommendation ERAS in Few Clicks
One side of studying for a medical professional is obtaining valuable practical experience. To join wonderful residency programs, you must submit a bunch of documents and recommendation letters. However, you don't just send them via email. The modern and optimized way offers using electronic Residency Application Service.
Preparing an ERAS letter of recommendation allows uploading files to profile and then to submit them to training programs in several clicks. Applicants just need to follow the document requirements. Even when fellowship allows writing large recommendation letters, ERAS LoR authors advise keeping word count around 800.
You should always focus on the content meaning rather than size. Admission committee tutors evaluate qualities, which you describe. While writing recommendation letters, avoid using any special characters. The same goes for underlines, italics, and bold words. Your LoR ERAS must have good visual readability.
ERAS® Letter of Recommendation Sample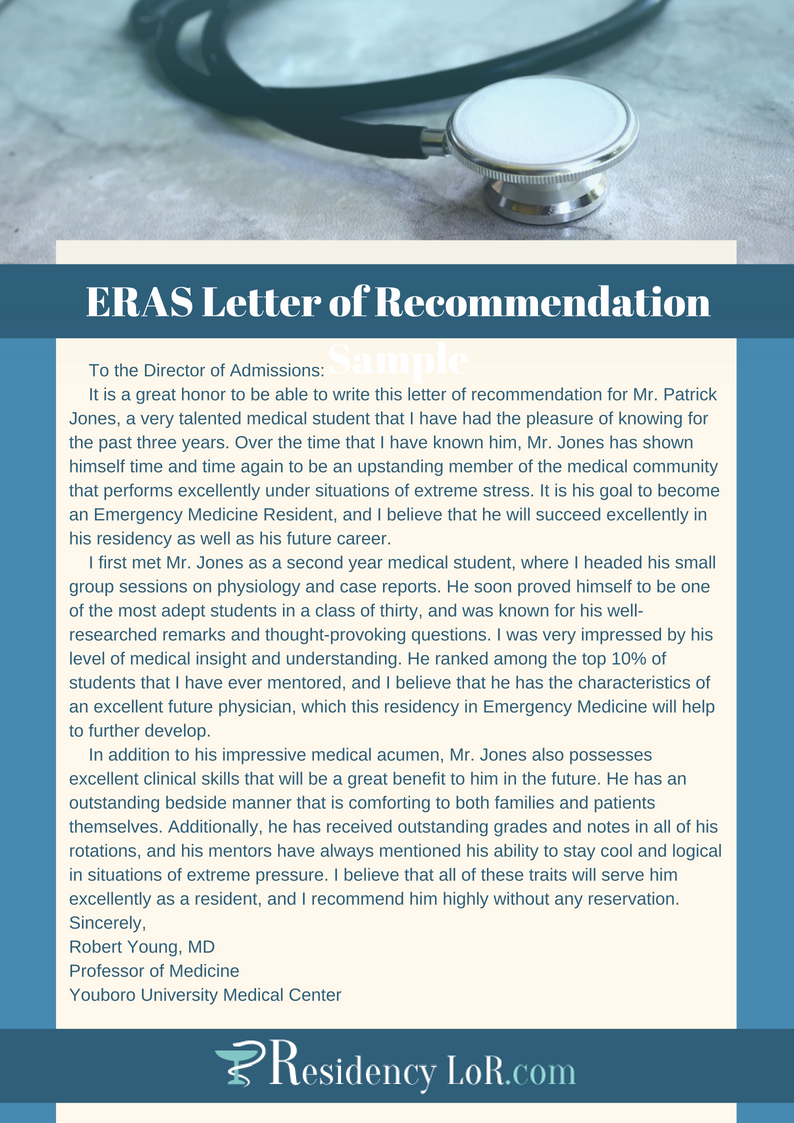 Another point is font. Elegant and curve styles may look flashy and attractive. However, it does not look professional. Remember that for letters of recommendation ERAS prefers using Times New Roman or Arial font of 10pt. Such parameters allow passing these minimum document requirements and focus on text meaning.
For a good letter of recommendation ERAS, you should:
Find a respectful recommender for an LoR.

Prepare information for self-presentation.

Outline text structure and needed data.

Develop several drafts and improve them.

Edit recommendation letter content.

Upload LoR to ERAS without delays.

Submit documents during admission.
Want to entrust ERAS letters of recommendation preparation to professionals? Get our best writers here! Spotless content guaranteed!
Beat Turnitin With Original ERAS LoR From Our Well-Versed Writers
Every year the number of existing letters of recommendation ERAS only increases. Original writing ideas help to attract more attention. However, the text itself must be unique. Online samples greatly simplify document preparation. However, repeating phrases and sentences leads to plagiarism. Text originality represents your honesty.
We understand the importance of creating an ERAS recommendation letter without any plagiarism. Professors use Turnitin to detect borrowed pieces. Cheating over this software is very complicated. Thus, our trained writers create every document completely from scratch. Tremendous experience in writing a letter of recommendation for ERAS guarantees document uniqueness.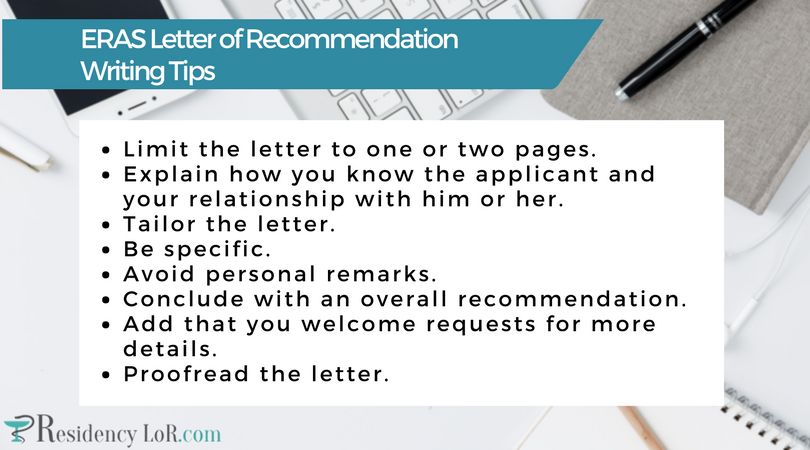 While writers create original documents, editors perform their duty. Quality control is an obligatory step for every ERAS letter of recommendation before moving forwards. Different points require attention. Proofreaders check whether sentences contain no mistakes in grammar. Complicated tenses and constructions are not what you should use either.
Vocabulary plays a crucial part in the ERAS recommendation letter too. Many applicants just spam terms to show their academic knowledge. However, only the correct usage of terminology can support your statements. To make the text look nice, it must have correct punctuation. It greatly improves ERAS recommendation letter readability.
Plagiarism checkups are what every document passes through before our dear customers receive them. Most tutors don't bother with repletion of some cliché phrases. However, we guarantee 100% plagiarism content. Thus, editors check ERAS letter of recommendation and remove any impurity that may taint text uniqueness.

Get the price reduced
by 20%
Order ERAS Recommendation Letter Anytime & Receive Doc on Deadlines
Every year admission starts almost around the same data. Applicants have plenty of time to gather and prepare needed documents. However, you shouldn't postpone making an ERAS letter of recommendation till the last few days. The writing process always takes longer than you imagine.
For fast solutions, you can always hire our experts. We remain available during the whole year. Just visit the website and order the ERAS letter of recommendation and any other application document. Don't worry about the time difference. You can purchase a writing service during the night time too.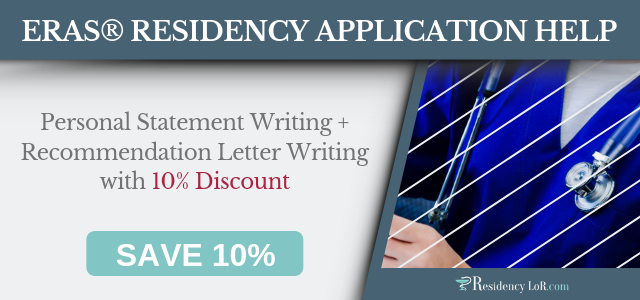 Just remember that every order requires some time. It is best to plan it beforehand. Go and check available deadlines. Then, you can arrange to receive a recommendation letter whenever you need it.
From our side, we guarantee punctual delivery. After ordering LoR ERAS, we find suitable experts who can accomplish your requirements. Writers always stick to deadlines and pass text to editors without delays. After all the corrections, you receive a flawless ERAS document on time.
We also advise having enough time to review texts by yourself. It allows using free of charge revisions to improve letters of recommendation even more. Just remember that you have only 14 days to use such an opportunity.
Hire Pros for Letter of Recommendation ERAS Anonymously & Safely
ERAS is a reliable platform that offers comfort and transparency while submitting documents. The same you expect from letter of recommendation writing services. Our company provides strong security measures. Every customer enjoys private data protection and anonymity.
Some internet visitors worry about prices. Here we always show the exact ERAS letter of recommendation costs. The sum depends on indicated parameters and selected extra features. You can see how costs change yourself. No hidden fees are guaranteed.
As for payment methods, you will not face difficulties either. To get an ERAS letter of recommendation, you can pay with credit and debit cards from MasterCard and Visa. These systems guarantee full protection of personal data and rapid transaction processing.
Confidentiality is what we guarantee too. After ordering an ERAS letter of recommendation, we automatically create profiles for clients. In the personal cabinet, you can track the status progress of every order. There you can also find out who works on your recommendation letter.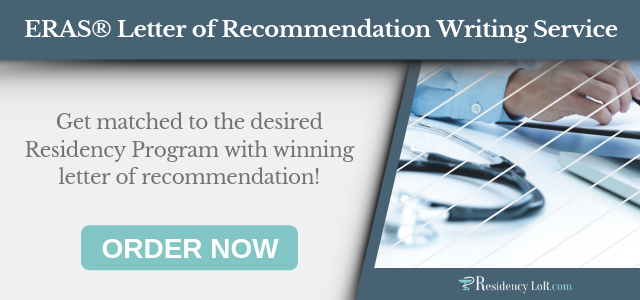 To enjoy all of that, we don't require providing name information. In conversation with writers about ERAS LoR, you remain anonymous too. Thus, the admission committee and professors will never find out about our professional writing assistance.
Order ERAS letter of recommendation here and get high-quality documents!

Exclusive pre-season pricing
till 7 June
only
Pre-season pricing
till 7 June
only
Pre-season pricing
Get A Discount