Quality letter doesn't simply list details or restate your resume

Multiple specialties, one solution
If you're applying for several residency programs, we will tailor your letter to each. It will tremendously boost your admission chances.

Adherence to ERAS® requirements
All residency recommendation letters are written by our experts in compliance with the ERAS® application system standards.

Money-back policy
In case of issues with quality, delivery, and so on, you can ask us for repayment.

No templates, only custom LoR
You'll be offered to fill in a questionnaire for us to write relevant personalized text.
We hire medical authors with an immense writing background and a relevant degree
What Is a Letter of Recommendation for Pediatric Residency and Who Needs to Write It?
The letter of recommendation for pediatric residency usually should be written by someone who has an ample knowledge of student seeking an opportunity to study medicine at undergrad or postgraduate level. The letter of recommendation for residency program, whether it is a recommendation letter for dentist, surgeon or pediatrician, covers resident and International Medical Graduates seeking an avenue to develop skills in medical practice. Such letters should come from someone who has worked with the student before or has taught the applicant may be at medical school.
Other persons who could write a letter of recommendation include a professor at undergrad or postgraduate residency program, the physician or medical practitioner from a medical specialty discipline or supervisor during the student's internship program. Also, a health official in a standardized or recognized organization where the applicant had the opportunity to serve as a volunteer for an extensive period of time could also be in a position to write a letter of recommendation.
The letter of recommendation should usually be written by someone from a medical practice or learning field. It contains an attestation about the character, skills, achievements, and qualities of an applicant into the pediatric medical residency program at undergraduate and postgraduate levels. The LoR ordinarily should not exceed one to two pages in all and reflect positive expressions about the candidate from a person who has had an opportunity to study the applicant while at work or studies.
Pediatric Residency Letter of Recommendation Sample Is Your Key Weapon
The pediatric residency letter of recommendation sample is one of the best tools to use if you want to know how to write a great LoR. When applying for residency, the applicant is asked to submit a LoR as one of the requirements for consideration of the committee. For that, the sample letter of recommendation for psychiatry residency and surgery letter of recommendation sample help. To learn more about why using a sample is a great idea as well as pro tips in writing your LoR, check out the following sections.

Get the price reduced
by 20%
How a Pediatric Letter of Recommendation Sample Can Help
With the pediatric letter of recommendation sample or surgery letter of recommendation sample, you will have a better idea on how to create the best letters of recommendation, especially if you have to come up with at least one because you're requested by some of your students to be their recommender. It is both an honor and a challenge to become a recommender.
For one, it means that the student is entrusting you his fate in the admission. Second, it is also a challenge for the sense that you have to put your best foot forward to provide the best help that you could in helping him stand out and make it to the program. The letter of recommendation samples for pediatric residents is your help with the ideas they contain in outlining and writing the letter. Choose from our wide range of pediatric surgery samples on this site for the best results.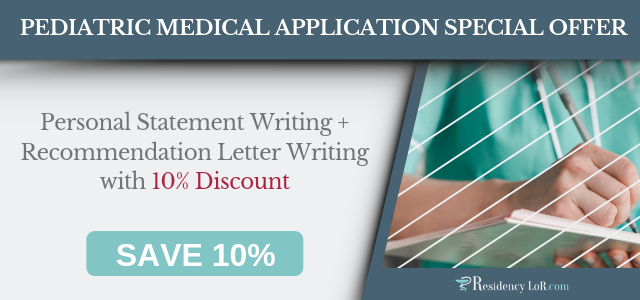 How to Write the Strongest Medicine Pediatric Residency Programs Letter of Recommendation
As you can notice in our sample pediatric residency letter of recommendation, the strongest letters need not belong. They must include the most important parts, including the introduction with details about "in what capacity" have you known the applicant. Are you his supervisor, professor or mentor?
In the next paragraph, write about your assessment regarding his abilities, performance, and quality of work.
In the last paragraph or conclusion, you must be able to summarize the overall strength of the recommendation.
Make a precise letter of recommendation. In some cases, the length may indicate how well you know the student. The best letters can go as long as two pages.
In writing the letter, you must include specific examples and descriptions of the abilities, knowledge, and skills of the student. However, you must avoid writing generic or vague descriptions. For example, don't say, "Mr. Ben was a great leader for his team". If making such a claim, back it up with facts. For example, "Mr. Ben has led a team of 10 researchers that have successfully completed a breakthrough study about modern pediatrics in six months". Just as in all types of writing, you must show, not tell.
To make an even stronger letter of recommendation, you may also want to include statistics. Was the student among the top 10% of the students that you have worked within the last two years or so? Write it.
If you're writing about any weakness, although not advised, you must be able to frame it positively. For example, "Mr. Ben has demonstrated improvement in documentation of patients…" not something like "Mr. Ben demonstrated very poor documentation skills".
You may also include any position titles, such as NY Hospital Pediatrics Director, or any faculty appointments. You can include those in the signature section. However, make sure your signature is real, not a digital one.
Expert Tips on Writing a Letter of Recommendation for Pediatric Residency
Using a letter of recommendation pediatric residency sample is a great help in coming up with an awesome LoR. But then, before writing and using one, you should collect information, according to Alison Doyle. You should ask the person a copy of his CV before writing the letter. It may also help you review his cover letter if he has one. These rules also apply for students applying for residency, not only for employees seeking a new job. By remembering these pro tips, you will not only be able to show that the student deserves his high MCAT scores, but also his fitness for the program and readiness for the career. There you have a complete guide in completing a great recommendation letter that will make the student shine above the rest. If you're looking for more help, then you can check out our pediatric administrative assistant letter of recommendation samples.
Top 6 Pediatric Residency Programs with Requirements
Some of the top 5 best institutions for studying pediatrics residency in the United States include the following:
Harvard University, Boston MA
Harvard University takes the first position for best medical school for pediatrics in 2018, the overall best medical school for research category and 12th best for primary health care.
List of specialties include:
Harvard has the 1st position in Anesthesiology, Internal Medicine, Obstetrics and Gynecology, Pediatrics, Radiology, and Surgery.
The University of Pennsylvania, Perelman is the first medical school and first school hospital in the United States. It is also the 2nd best for pediatric studies, 6th best for research and 8th best for primary health care.
List of programs and specialties include:
It seats at the 4th position for Anesthesiology, internal medicine and radiology, 5th position for Obstetrics and Gynecology, 1st position and tie for pediatrics as well as 3rd position for surgery.
The University of Cincinnati ranks 3rd best for pediatrics residency, 44th best for research and 56th best for primary health care. It has a full-time medical student capacity of 1,837 and currently, total enrolment stands at 671.
It ranks high for pediatrics, family medicine and internal medicine, women's health, etc.
List of programs and specialties include:
Anesthesiology
Emergency medicine
Obstetrics and Gynecology
Family practice
Pediatrics
Internal medicine
Psychiatry
General surgery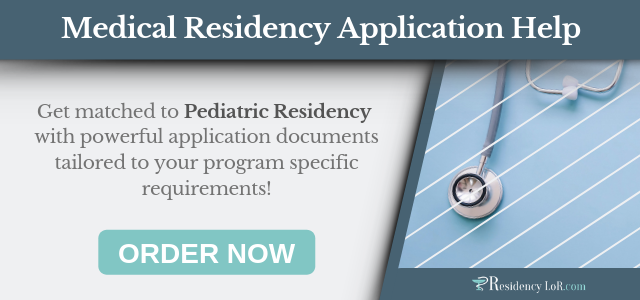 The University of Colorado ranks the 4th best when it comes pediatrics, 32nd best for medical research and 9th best for primary health care. It has a medical campus capacity of 3,964 and currently enrolled students of 708.
List of specialties include:
Emergency medicine
Family practice
Internal medicine
Pediatrics
General surgery
Johns Hopkins University stands at 5th best for pediatric, 2nd best for medical research and 26th best for primary health care. The institution provides students with advanced skill development in medical studies with the help of Johns Hopkins Hospital and pediatric and eye trauma centers, Maryland.
List of specialty programs include:
It ranks 3rd position for anesthesiology, obstetrics and gynecology and 1st position tie for internal medicine.
University of California, San Francisco, CA
The University of California has a 5th position tie with Johns Hopkins University for the pediatrics category. It is also 5th best for medical research and 2nd best for primary health care.
List of specialties include:
It ranks 2nd position for anesthesiology and radiology, the 3rd position for internal medicine, 4th for surgery as well as 5th position for pediatrics and psychiatry.
Entry Requirements for Studying Pediatrics in the Us
Securing admission into medical programs in the US involves a lot of requirements and preparation to get accepted into a program:
Diploma from your high school
Bachelor or undergraduate science degree for three to four years.
You must have a bachelor's degree with a 3.0 minimum GPA
Extra-curricular activities
TOEFL language scores of not less than 600+
Letter of recommendation
MCAT exams requirement
Completed college pre-medical courses in:

One year laboratory biology class
One year laboratory chemistry class
Biology and chemistry with a specialty on humanities covering 24 semester hours at least
One year or 6 to 8 semester hours of coursework in Mathematics, Calculus or statistics
Laboratory coursework in physics for one year or 8 semester hours
MCAT is an entrance examination for all those seeking admission into medical schools in the US and coordinated by the Association of American Medical Colleges (AAMC). It consists of a 7 and half hour exams in chemistry, biology, psychology, critical analysis, and reasoning skills.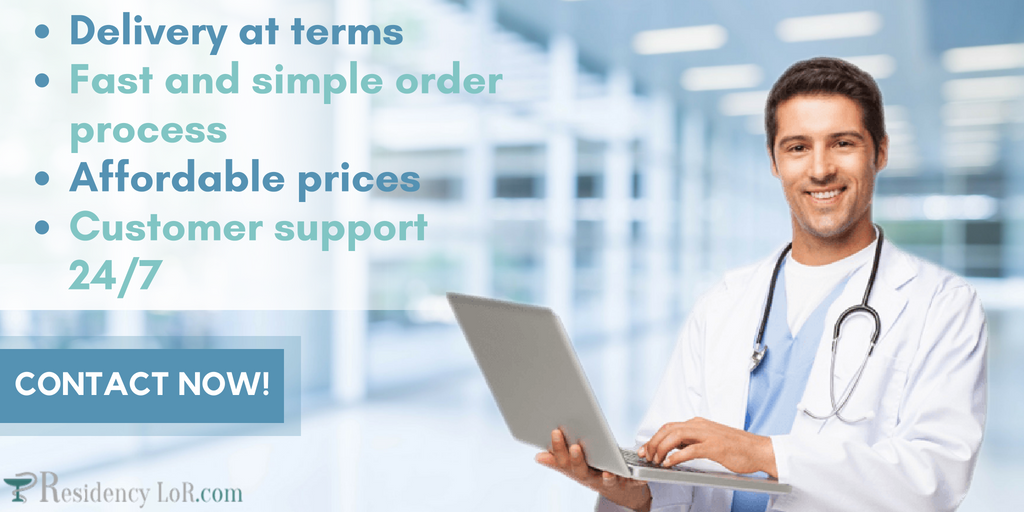 Having an Impressive Pediatric Letter of Recommendation
During your 3rd and 4th years of schooling, it is essential that you establish a good relationship with attending physicians who work with you. It is not about getting positive rotation evaluations but it is about helping you to write a letter. It is easy to ask them to write for a letter of recommendation for pediatric residency. In residency programs, you need to have at least 3 letters that is why you need to ask different persons in writing a letter.
In getting an impressive letter, you need to request LoR from your attending physicians who you have worked with. Some person likes to write the letter after two weeks or three.
In addition, do not ask residents to write the letter even if you think they can write an excellent letter.
You can also ask help from faculty members to write LoR because they somewhat have known you for a while since you are their students. It is better when you talk with them personally instead of just calling or texting them on the phone. Communicating with them personally helps them to know you more and ask for other details.
Do not wait for the last minute to ask persons to write your letter of recommendation. It is essential to request from attending physicians or faculty member.
Finding the Right Person to Write Your Letter of Recommendation for Residency Program
Before you start asking other people to write the LoR for you, it is essential that you know how the letter looks like. You need to have ideas on how to write it and make a list of persons that can able to write a great letter. When you have the list, contact the person and ask them if they can craft a letter of recommendation for residency program. If he agreed, meet him personally for information that he still needs. Set up a time and place where the two of you can meet together.
Do not forget to bring documents that the recommender needs such as curriculum vitae and personal statement. This helps him to know more about your plans and goals in the next years. Finally, you can only get an impressive recommendation letter from the person who knows how to write the recommendation and can dedicate time in writing it. Just be sure that you know the person and you have a good relationship with him. Ask the person two to three weeks before the deadline of submission.
Pediatric Letter of Recommendation Writing Tips and Guidelines
It is a good idea when you have some generic pediatric letter of recommendation or a psychiatry letter of recommendation especially when you are planning to apply to numerous specialties. This is also good when you change your mind on the specialty you want to later on. It is important to request a letter of recommendation during rotation because the attending physician will remember you, will know what are your contributions, how you perform and others. It is suggested when you ask for LoR a few days before the last day of your rotation.
Know the applicant well enough. You cannot write an exceptional pediatric letter of recommendation without having a clear knowledge of the applicant. Know about their work achievements and work ethics, values and more.
Organize your thoughts and the available facts to write well. To achieve that you need to build your LoR around a structure. The structure includes the introduction, body, and conclusion.
The introduction takes pre-eminence if you must write an exceptional letter of recommendation.
The introduction helps to draw the link in terms of the relationship between the writer and the applicant, stating how they got to know and the duration of the relationship. It should be captivating enough to retain readership.
Be conscious of the length. The recommendation letter for residency program should ideally be between one to two pages. Half a page would be too short and create the impression that you lack ideas on how best to present the candidate or do not know the applicant so much to write anything meaningful.
Provide ample description. A detailed LoR talking about the skills and achievements of the applicant in an honest way increases the chances of the letter receiving attention.
Write the weaknesses to have a positive twist. Look for how to make the candidate's weakness to appear as strength.
When concluding state the reasons for which you would recommend the applicant for consideration into that institution.
Make early contacts with the person to write your letter of recommendation while still preparing to give ample time for assessment and details responses.
It's not so often you feel qualified nor have all that it takes to do an exceptional LoR for the residency program for a candidate. That again makes it okay to seek professional help in saying it the appropriate way. Our team of LoR writers has written hundreds of successful LoR. Others have worked in various capacities in academic institutions and therefore have hands-on experience writing LoR.
The Help of Pediatric Letter of Recommendation Writing Service Is Guaranteed
We offer some of the best LoR writing services and regularly develop our skills to meet up with changes in the educational sector. The major difference between our LoR writing service and others is the fact that our writers have advanced degrees, decade-long experience and have written so much LoR we have lost count.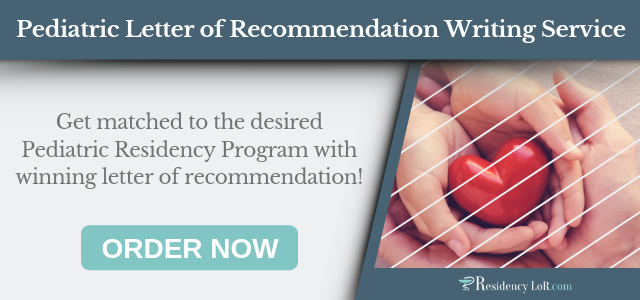 100% unique letters of recommendation: Once you place the order, we request for details from your personal statement and resume helping in crafting an exceptional letter of recommendation. The fact is that our LoR comes as custom-made to reflect your skills, achievements, and qualities such that the only requirement would be to include the name of the person recommending the candidate, sign, add the date, address and submit.
Direct communication with a writer: To ensure you have a smooth ride with your letter of recommendation we allow you to make contact with our expert writer assigned to you. The expert writes and makes all necessary adjustments to help you learn and appreciate the letter.
Editing, proofreading, and formatting: Our team of editors possesses the eagle eyes to spot errors from afar to give you the best LoR. They eliminate all spelling and grammar error and then format your LoR to perfection and in line with the institution's instructions.
100% money back guarantee: We offer a 100% money back guarantee when you place an order for a service and do not get the satisfaction you deserve. But guess what? You will not need it because we usually surpass expectations and then carry out multiple adjustments until you get satisfied. But, understand that at any time you can get a refund in line with our return policy.
Confidentiality of information: We treat your personal details with all the seriousness it deserves as no third party or unauthorized access to your details.
Affordable pricing: To help sweeten the deal we offer exclusive discounts to ensure you get only the best service at the best offering to industry standards always.
Prompt delivery: Our LoR writers offer speedy service delivery. We work with speed and accuracy to deliver on or before your deadline no matter how tight your schedule could be.
Get in touch with us for help and pediatric residency letter of recommendation sample today!