Quality letter doesn't simply list details or restate your resume

Multiple specialties, one solution
If you're applying for several residency programs, we will tailor your letter to each. It will tremendously boost your admission chances.

Adherence to ERAS® requirements
All residency recommendation letters are written by our experts in compliance with the ERAS® application system standards.

Money-back policy
In case of issues with quality, delivery, and so on, you can ask us for repayment.

No templates, only custom LoR
You'll be offered to fill in a questionnaire for us to write relevant personalized text.
We hire medical authors with an immense writing background and a relevant degree
Future Dentist Letter of Recommendation to Enter the University
The process of becoming a dentist involves different stages, from applying to a dentist school to passing final exams. But let's start from the beginning and prepare a stunning letter of recommendation to the dentist school to get admission. However, getting a dentist recommendation letter isn't easy, as a professional dentist usually has no experience writing such papers.
Still, it is possible to write a dentist letter of recommendation when you are familiar with the structure and specifics of such type of paper. Let's find out what are the necessary parts of a dental and nurse recommendation letter and how to make them outstanding.
What Is Dentist Recommendation Letter in Essence?
As a university requires dentist letter of recommendation to consider your candidature as a future dentist, they aim to receive fair thought from an experienced dentist professional about your personality. The recommender has to be in a professional relationship with you and reveal your professionalism and teamwork. It would be great if you worked on the same project or did dentist research together, which would add to your letter of recommendation.
A professionally written letter of recommendation for dentist can significantly change your chances among the other dentist program applicants. So, let's see what are the main points to follow to receive a stunning dental school letter of recommendation and receive admission to dentist school.

Get the price reduced
by 20%
Questions to Answer in Letter of Recommendation for Dentist?
Typically letter of recommendation dentist writes has to contain three points. They give an idea of who the recommender is and outline the main traces of the dentist.
Relationship
In the first paragraph of recommendation letter for dentist, a recommender has to introduce themselves and tell about the relation to the dentist. It is necessary to indicate the duration of your cooperation, what were the circumstances of the start of your relationship, and how you contributed to it.
Practical expression
In the letter of recommendation for dentist, a recommender should reinforce the words said with practical examples. They should describe what the achievements of the dentist are or other results in the situations that took place in real life were. The recommender should state the professional qualities they saw in such situations.
Positive attitude
A recommender should write a letter of recommendation for dentist in an overall positive form. Even the weaknesses of the dentist have to be presented smoothly and only if they critically affect the results. Originally a dental letter of recommendation aims to help a candidate in getting admission.
Letter of Recommendation From Dentist for Dental School Entry
To enter a top dental school recommendation letter is a must. You have to put a lot of afford into this document to get admission. Also, tailor them to a specific dentist program. This will be a huge advantage in the eyes of the committee. The top programs future dentists take are as follows:
UCSF School of Dentistry: General Practice & Oral and Maxillofacial Surgery Residency Programs
University of Washington School of Dentistry: Oral and Maxillofacial Residency Program
University of Pittsburgh School of Dental Medicine: Dental Anaesthesiology, Oral and Maxillofacial Surgery, Orthodontics and Dentofacial Orthopaedics, and Paediatric
Dentistry Residency Programs
McGill University Faculty of Dentistry: General Residency Program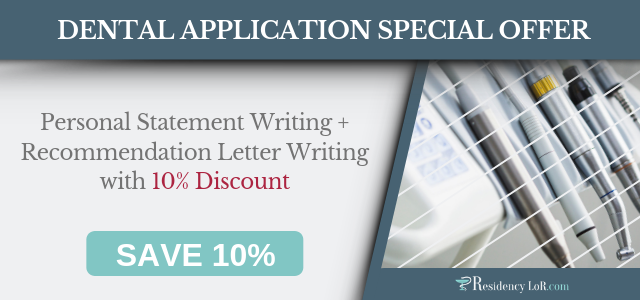 Typical Dentist Letter of Recommendation Sample Format
In the process of writing recommendations to dentist school, you may look up any example of residency LoR, and the common trace is the structure. Usually, a letter of recommendation from dentist for dental school counts three paragraphs, or sometimes they are five in the most detailed recommendation letter. Let's see what the parts of a letter of recommendation to the dentist school are and the details they should include.
Introduction
In the introduction of the letter of recommendation for dentist, you have to outline the relationship with the dentist and its duration. Reveal the professionalism of the candidate and where you were able to witness it. Shortly state the main idea of the letter of recommendation to the dentist school that you will reveal in the next paragraphs.
Main paragraph
In the main part of letter of recommendation for internal medicine residency or the dentist, you have to describe in detail the idea you stated at the beginning of the letter of recommendation. What were the circumstances that showed dentist professionalism? How is the dentist doing during teamwork? Don't describe the only situation in 3 paragraphs. Keep a recommendation letter for dental school detailed but brief enough. Remember to have an overall positive tone throughout the letter.
Summary
In concluding a letter of recommendation for a dentist, keep it short. Sum up the reasons that make them the best candidate and give your personal look. Why do you think it will be their great chance to have this candidate? Also, remember to leave contact details at the end of the recommendation letter to the dentist school.
Specific details
Sometimes universities give additional requirements not only regarding formatting but also regarding content. They may ask you to include in your letter of recommendation for dentist details about your childhood, additional achievements, or even jokes. This is made to see what kind of candidate is behind the formal letter of recommendation for dentist written.

What Are Common Tips LoR Dental Writers Follow?
A dental recommendation letter should come with several things that will make a dentist letter of recommendation sample stand out from the crowd:
Be Confident: There's no point in writing a dentist letter of recommendation if you are not sure or confident that you can do it. If you have nothing positive to say or think that the person is not worthy of the chance, or for any other reason – you better avoid writing it.
Explain the Relationship: You should be familiar with the person you are recommending. So you need to explain how that relationship was formed and why you can give a recommendation for that person.
Highlight Positive Things: Again, positivity is the most important part of this letter. Keep bad or negative things away from that LoR.
Support Everything: Going to say how great the dentist is at treating patients? Then explain why with an anecdote or fact. Otherwise, avoid writing anything.
Stay Updated: You don't want to talk about something that happened years ago when you can talk about something that happened yesterday. Talk with the candidate before writing.
Be Personal: Emotional touches or personal experiences are often the most engaging and useful statements in a letter of recommendations. Use them, but always with support.
Tell a Story: Anecdotes are powerful. If you know anything in special about that person's professional life, even if it is not related to you, try to write about it briefly. Stories are very useful.
Focus on Why Instead or What: If you write about achievements, skills, experiences, and so on, try to tell why you write about them. This will increase the strength of the statements.
Ask for Help: After writing the LoR, you may need some help editing and proofreading. An outside person with experience will tell you what to fix or improve.
Keep it Simple: It is important to be detailed and specific and give support to each statement. But try as best as you can to be straightforward and succinct. It prevents the letter from being boring.

Professional Hints on Recommendation Letter Writing for You
If you decide to write your own emergency medicine residency letter of recommendation or letter of recommendation for international dentist, read some professional hints in advance to make your letter of recommendation more interesting. There are at least two tips that will enhance your letter if you use them:
Use accurate data
For some recommendation statements, it is better to prove them by showing the numbers but avoid doing it in every argument. Some numbers will make the committee trust your recommendation more. Like this: "The average transcripts of dentist Mr.Smith are higher than in 90% of other students."
Reveal negative sides in a positive tone
When writing a letter of recommendation dental school applicant has to submit it, and the recommender tends to avoid weak points. However, it is better to show in the recommendation letter to the dentist school that the applicant realizes them and tries to improve their negative sides.

We Can Write You an Impressive Dental Recommendation Letter
Sometimes an applicant to a dentist program feels perplexed just after receiving an assignment to write a recommendation letter for dentist to enter a university program. With professional writers, it becomes much easier, as we offer top-quality dental letter of recommendation that is written according to all the requirements.
Services We Provide on Dental Recommendation Letter Writing:
Team of experienced creators: we cooperate both with the writer and editor on the dentist recommendation letter order.
The advice of a Dentist: To reach the best quality letter of recommendation aimed at dentist programs, we cooperate with practitioners to take into account every detail.
Complying with the deadlines: even if you set the shortest possible deadline to create a recommendation letter for dentist, we are sure to deal with it.
Always in touch: Any time you have a question regarding a letter of recommendation for dentist ordering, we are ready to help you.
Guarantees: you can request a return of the money before the dentist recommendation letter is ready if, at any point, you don't like our service.
There is nothing to be thinking about regarding a letter of recommendation for dentist you are looking for. We all know that ordering a recommendation letter targeted at dentist programs on a professional platform is the best choice. The quality of the recommendation letter and the overall service will leave you satisfied.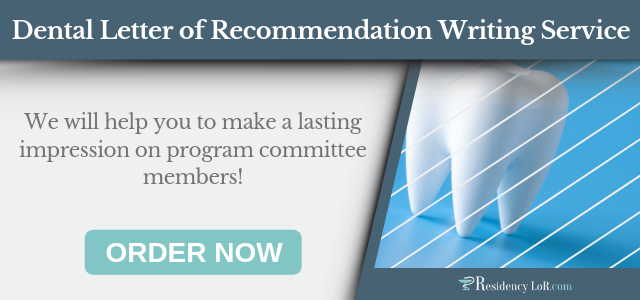 Place your order on the site right now to receive the best possible letter of recommendation for dentist and receive admission!