Quality letter doesn't simply list details or restate your resume

Multiple specialties, one solution
If you're applying for several residency programs, we will tailor your letter to each. It will tremendously boost your admission chances.

Adherence to ERAS® requirements
All residency recommendation letters are written by our experts in compliance with the ERAS® application system standards.

Money-back policy
In case of issues with quality, delivery, and so on, you can ask us for repayment.

No templates, only custom LoR
You'll be offered to fill in a questionnaire for us to write relevant personalized text.
We hire medical authors with an immense writing background and a relevant degree
Writing an Impeccable Nursing Letter of Recommendation to Satisfy Committee
To be admitted to the nursing program, you must pass the test involving collecting and writing your admissions paperwork. It is an essential and demanding process, so leave enough time to prepare numerous documents. A lot of effort and time will be required for a nurse recommendation letter, personal statement, test scores, etc. Some programs you apply to may require multiple nurse recommendation letters, so check you are doing everything right.
It is common for applicants to ask their professors to write a nurse recommendation letter for them. However, various problems make this impossible. For example, they don't have the time to write a nurse's letter of recommendation because preparation also takes time, or they don't have writing skills and will do it with poor quality.
Therefore, in most cases, lecturers will sign an already written nurse letter of recommendation that you bring them. So you should know how to write a nurse recommendation letter or trust professional writers.
Key Points of Letter of Recommendation for Nursing School
The primary purpose of letters of recommendations for nurses is to present the candidate as the best fit for the nursing program. Therefore, you should present your strengths to convince the admissions committee. You should understand that there are many worthy candidates for the nursing program, so you need to have enough knowledge and prepare an excellent nurse letter of recommendation to get admission. It should include:
Accomplishments in fields related to the nursing profession and their impact.
Your sincere desire and motivation to follow your chosen career.
What traits and skills as a nurse you have demonstrated recently.
Your role in teamwork, your ability to build communication, and being part of an entire team of nurses.
The knowledge you have acquired during your nursing studies and extracurricular activities.
However, do not try to exaggerate or write things that are not true, as this is always obvious and only makes things worse. Remember, there is no such thing as a perfect person, so don't try to become one.
Don't feel you can write a letter of recommendation for nurse on your own? Order a professionally written nurse letter of recommendation from experienced writers. Don't risk your place in a nursing education program!

Get the price reduced
by 20%
Pitfalls When Writing Nursing Recommendation Letter
Of course, a nursing specialist is focused on the study of medicine, not on improving their writing skills. Therefore, when you need to write a nurse letter of recommendation, you may lack the skills to make it memorable. In this case, you can search the internet for a suitable nurse recommendation letter sample.
Still, if you take a random nurse recommendation letter sample, there may be mistakes you can't see at first. Therefore, simply rewriting from the example can lead to various mistakes in your final nurse recommendation letter. In addition, you may encounter plagiarism problems that can seriously harm your results.
Plagiarism of Nurse Recommendation Letter
The problem of plagiarism is critical because programs for nurses have strict requirements for the quality of the work submitted. Many different programs are more or less helpful in checking whether your letter of recommendation contains plagiarized information. One of the best-known is Turnitin, and it quickly detects copied work. Writers with sufficient skill compose a letter of recommendation for nurse that passes Turnitin without comment.
Satisfy Tutors With Flawless Nurse Practitioner Recommendation Letter
Getting into nursing school is another challenge before you can become a professional. Gathering and preparing numerous documents is a very responsible task. For sure, every applicant must submit a nurse recommendation letter, personal statement, test scores, etc. Some medical schools require even two LoRs.
Many applicants hope to entrust the writing process of a nurse practitioner recommendation letter to respectful professors. However, tutors always have tons of duties. They may offer just to sign the document leaving its preparation completely to you. Thus, learning about how to write LoR becomes obligatory.
In nurse practitioner letter of recommendation, make sure to present such points:
Accomplishments in related fields.

Attitude to the selected profession.

Motivation to improve yourself.

Reliability in teamwork tasks.

Academic level of knowledge.

Contribution that you can make.

Every letter of recommendation nursing doc aims to present strong sides, which the admission committee seeks in candidates. Becoming the most suitable one is hard. However, always remain honest in the letter of recommendation for nursing as lying will only make it worse.
Struggling with LoR all by yourself? Entrust letter of recommendation nurse to trained writers here! Top-quality and satisfaction guaranteed.
Get Nurse Practitioner Letter of Recommendation That Passes Turnitin
A nurse practitioner career requires having deep knowledge of medicine. Thus, you may not focus on preparing various documents. Using samples of a recommendation letter for nurse from internet articles greatly saves your time. However, you may face plagiarism issues later during the admission process.
That is what never happens with professional writers. Our service always creates a letter of recommendation for a nurse from scratch. Skillful experts use original ideas to present your candidacy from the most convincing side. Our unique writing allows passing any plagiarism checkups.

At nurse programs, schools have strict requirements for document quality. Tutors often check content on uniqueness, using various software. Turnitin and other tools can easily detect copied pieces from already existing texts. Well-versed writers prepare a letter of recommendation nurse practitioner, which flawlessly passes Turnitin.
We achieve such high-quality standards thanks to professional editors. Experts analyze every letter of recommendation nurse practitioner and eliminate any faults. Our texts contain no grammatical, syntactical, punctuation, or vocabulary faults. Letter editors run plagiarism checkups too. Thus, you can impress admission professors with spotless documents.
Letter of Recommendation Nursing From Subject-Matching Professionals
Every recommendation letter for a nurse must correctly represent individual strengths and qualities. While selecting a recommender, you need to find a person who knows you very well and can write LoR. Thus, you may end up preparing nurse application docuDo not waste time and entrust your recommendation letter for nurse to our professionals now!ments alone.
Our service allows hiring professionals who can describe your candidature in the best way. Here we prefer using a personal approach for such a document. When ordering letters of recommendation for nurse practitioner we find and assign only matching writers.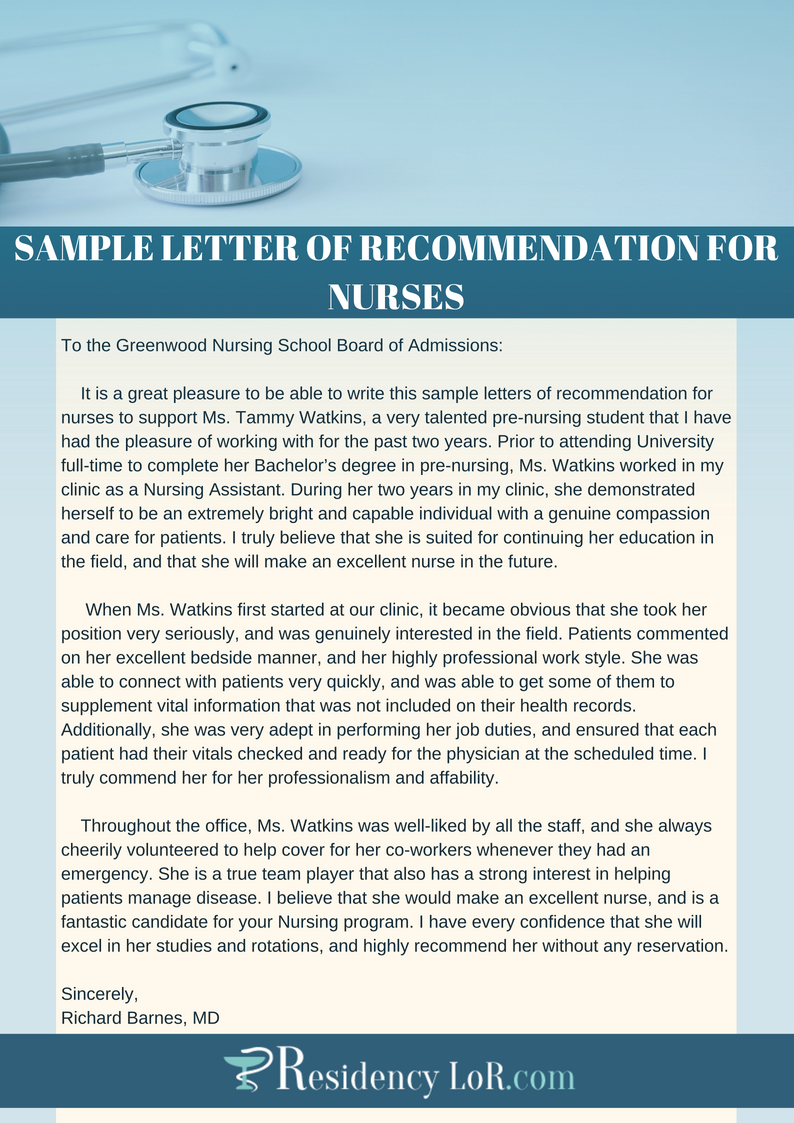 Such professionals have deep knowledge and experience in writing nurse LoR. With a correct understanding of requirements, we deliver documents that satisfy professors. To enhance the recommendation letter for nurse practitioner writing process, we have developed a convenient questionnaire. Customers gather needed info by answering it.
Then, clients receive a possibility to communicate with assigned letter professionals directly. In the recommendation letter for nurse practitioner school, it is important to present correct information. Our writers can ask you additional questions to clarify some details. From your side, you feel comfortable giving suggestions and comments about the content.
Letter of Recommendation for Nursing From Completely Secure Service
Using writing services to pass admission for a nurse program greatly benefits. However, reliability is a common problem on the internet. As medical schools do not appreciate letters of recommendation for nurse practitioner from professionals, writing services must guarantee anonymity.
That is why we use only modern and effective security measures. HTTPS/LS protocol provides safety connection to every website visitor. All the data that you provide for a letter of recommendation nursing we keep hidden from third parties. Writers just use materials to accomplish your order.
Many services have registration processes where you indicate your name and other credentials. It is not very anonymous. Our system works a bit differently. After ordering a nurse recommendation letter, we automatically create a profile for you. Instead of names, we assign ID numbers, which help track and deliver orders correctly.
Such an approach provides full anonymity. Customers receive their excellent letters of recommendation for nurse practitioner while tutors are sure of your authorship. Even if they would like to find out, we make sure that the text is unique and it does not lead to our writing service.
Receive Letter of Recommendation Nurse & Topnotch Customer Benefits
When you find two similar writing services for a nurse recommendation letter, your choice depends on the advantages. Besides, quality standards, comfort, and delivery can play a decisive role. Thus, before selecting a platform, it is better to review each of them patiently.
Alternatively, you can save time just by hiring our professionals. Modern website design provides relevant nurse recommendation letter information that you should know. You can easily navigate to the needed page without difficulties. Various questionnaires assist in gathering and providing info for orders.

If you are looking for a better customer experience, check available extra features. When you order a recommendation letter for nurse practitioner school, select any of them. Among customers requesting a callback from a writer is a popular option.
In direct conversation via phone, it is much easier to describe what kind of recommendation letter for nurse you need. Writers can get needed information too. As this is an optional feature, you should consider its benefit to you.