Quality letter doesn't simply list details or restate your resume

Multiple specialties, one solution
If you're applying for several residency programs, we will tailor your letter to each. It will tremendously boost your admission chances.

Adherence to ERAS® requirements
All residency recommendation letters are written by our experts in compliance with the ERAS® application system standards.

Money-back policy
In case of issues with quality, delivery, and so on, you can ask us for repayment.

No templates, only custom LoR
You'll be offered to fill in a questionnaire for us to write relevant personalized text.
We hire medical authors with an immense writing background and a relevant degree
Writing Your Pharmacy Letter of Recommendation
If there's something most people in the academic world tend to do wrong, it is writing a letter of recommendation. Especially in the medical field, precisely as a pharmacy letter of recommendation, most people who are writing them to make several mistakes and don't know the right way to do it. When pharmacy LoR or family medicine letter of recommendation is for a residency application, avoiding mistakes and knowing the right way to create one is essential.
A residency letter of recommendation can increase the chances of a candidate to get accepted. And just getting admitted to such a great opportunity is a massive step into any wannabe pharmacist. Here we have the perfect pharmacy recommendation letter advice for you to follow.
Any person who wants to participate in a pharmacy residency for a post-graduate program will almost surely need a pharmacy residency letter of recommendation. The most important reference document a person needs due to the ability of it to backup not only the experience of a candidate but several other essential factors such as skills and even achievements.
Professionally Written Pharmacy Letter of Recommendation Sample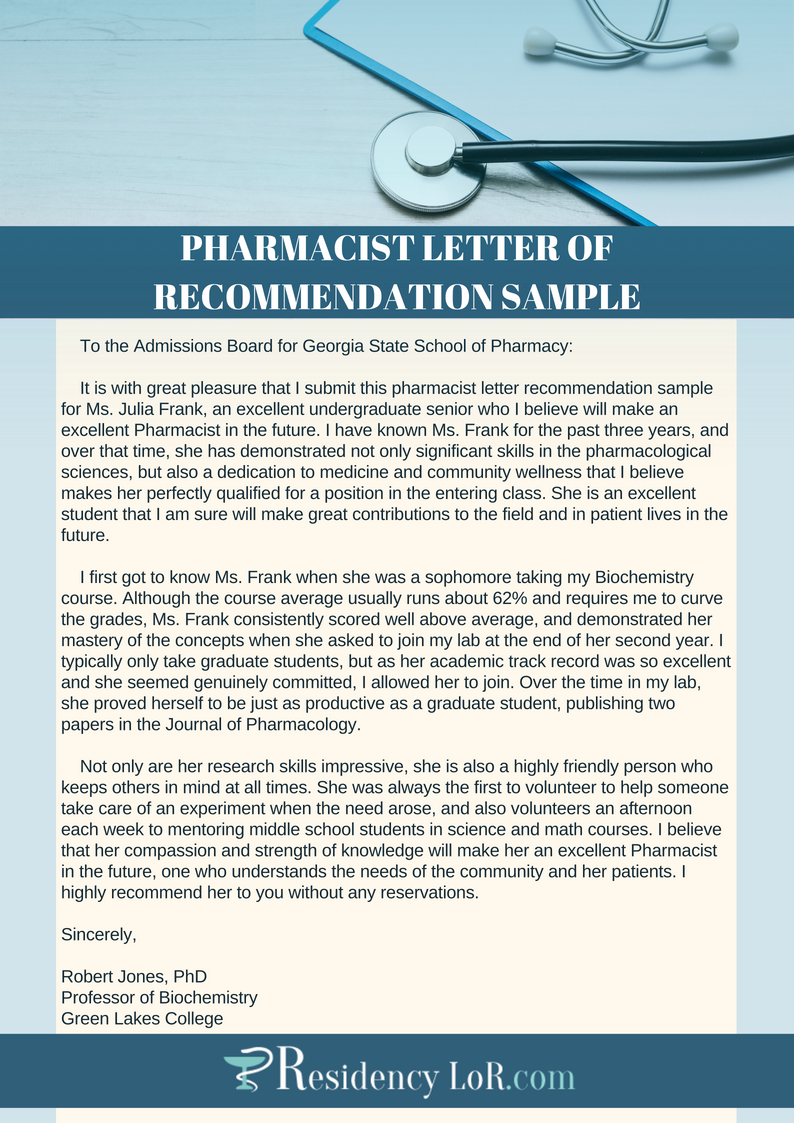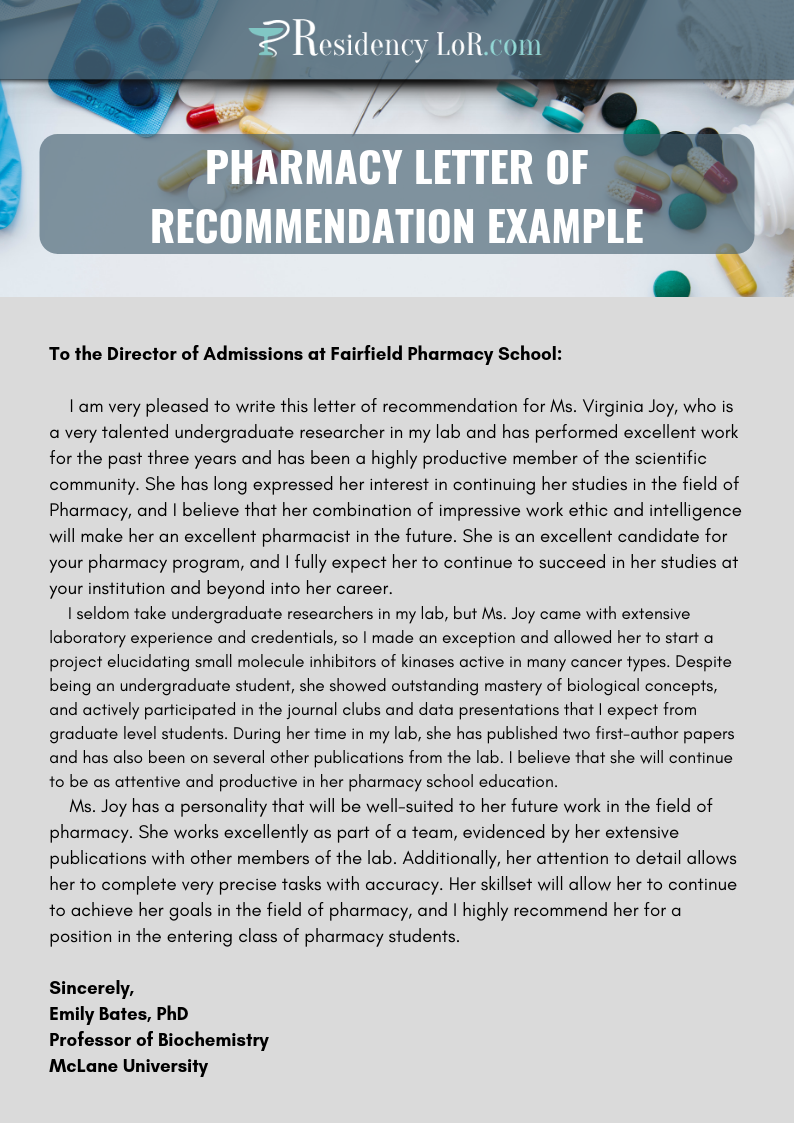 Top 5 Pharmacy Residency Programs
Midwestern University Chicago College of Pharmacy: Community Pharmacy Residency, Ambulatory Care Pharmacy Residency, Infectious Diseases Residency
UC Davis Health Department: Pharmacy Practice, Ambulatory Care, Ambulatory Care/HIV, Medication Use Policy/Managed Care, Cardiology, Critical Care, Emergency Medicine, Infectious Disease, Oncology, Pain and Palliative Care, Pediatrics, Ambulatory Care & Transitions of Care, Medication Safety
UC San Diego Health Department: Acute Care, Ambulatory Care, Community, Critical Care, Health-System Pharmacy Administration, Infectious Diseases, Oncology Residency, Psychiatry, Solid Organ Transplantation, and Internal Medicine.
Loma Linda University School of Pharmacy: Pharmacy Residency, Cardiology Residency, Critical Care Residency, Internal Medicine, Infectious Disease, Medication Safety, Pharmacy Administration Residency, Community Pharmacy Residency, Oncology Residency, and Pediatrics Residency.

Get the price reduced
by 20%
5 Easy Steps for Writing a Pharmacist Recommendation Letter
When a candidate or applicant is asking you to write a letter of recommendation for pharmacy technician, it's very likely you won't know how to do it correctly. As we know everything needed for writing letter of recommendation for pharmacy residency like a professional, here are a few steps we invite you to follow:
Find out If You Are a Good Option
Anyone can ask you for a letter of recommendation, especially if you are someone with authority such as a supervisor, director, colleague or professor. However, if you think you are not a good option to write it, let the candidate know. It could be because you feel you don't have much to say about that person, because you think you are somehow biased against him/her, or just because there's someone with more authority than you – then let that person know that you don't want to or shouldn't do it. There's nothing worse than a pharmacy school letter of reference that's negative, empty or indecisive.
Gather All the Information You Can
As soon as you've decided that the person who asked you to write the letter deserves it from you – then you can start doing it. But first, make sure you know as much as you can about that person. Not only about his professional life but about his personal life – that is also important. Sit with the applicant to drink a coffee and talk about that, let him know you want to help him and need as much information as possible. If you have experienced together, try to remember them accurately so you can write them up as well.
And of course, then learn more about the program that person wants to follow, the drive and the whole reasons that person is following such career path. All this is extremely important for a pharmacist recommendation letter, as well as the CV, letter of intent, years of experience, exact undergraduate degree, and so on.
Start Writing
As soon as you have everything related to the candidate and program and you've made sure that you are the right person for the letter, start producing the masterpiece. Remember, you are writing a reference document that needs not only to evoke a positive idea about the candidate but also explain the relationship, the affiliation, and back up each statement with statistics, evidence, or a simple story.
As crucial as exposing all that information, you need to focus on having the right structure. Start with an introduction paragraph then go for a body with at least one paragraph up to three and finish with a conclusion of about five to six sentences in just one paragraph.
Apart from that, make sure that the LoR pharmacy you are writing is straightforward but slightly detailed. Don't go over the top and write something too specific that could make it look uninteresting. Instead, focus on being direct and explain things fast.
Ask for Advice
You are not alone when writing pharmacy residency letter of recommendation; you can also ask the help of any friend or colleague who has authority and experience on the field. They will tell you what to focus on, what to avoid, and how to do it regarding writing style and vocabulary. The best advice you can get is the advice of someone with lots of experience and who has written similar letters before.
Look for Editing & Proofreading Help
When you have the pharmacy residency LoR application done, don't go straight to delivering it to the candidate. Instead, tell a friend a colleague or someone with more authority to go over it, edit and proofread it so you can learn more about any mistake or detail to improve. Remember that there's nothing more engaging and exciting than a letter that is grammatically sound, typo-free and crisp. This way you will enhance the applicant's chances exponentially.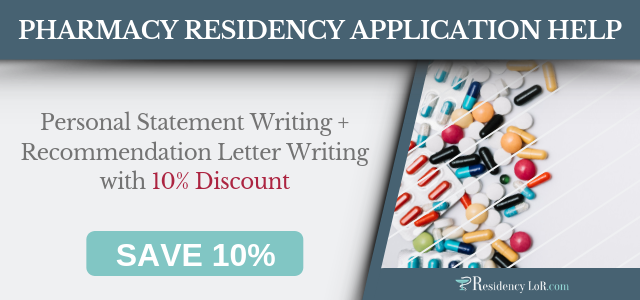 Pharmacy School Letter of Recommendation Template
We know how hard it can be to find a pharmacist letter of recommendation sample to follow. That's why here we have a sample that will give you the best idea on how to write one of these, whether it is a recommendation letter for dentist:
Pharmacist Letter of Recommendation Sample
To Whom It May Concern:
Dear [TITLE] [LAST NAME]
It's of my delight to recommend at [Name of the Applicant] to your [company or program] as he is a reliable and competent person. My time spent with him was at [Name institution] doing [Name of course, research, internship, etc.] and I came to know him/her thoroughly as a professional. And all I can say is that he/she is a valuable professional in every way, and will surely give your [company or program] a huge advantage/addition. He is [adjectival soft skill + hard skill] who always [result or achievement] and that's something not to overlook.
[PARAGRAPHS STATING/EXPLAINING EVIDENCE, HISTORY, STATISTICS, FACTUAL STORY, ETC. ABOUT THE FOR MENTIONED ACHIEVEMENT OR RESULT]
[Name of the candidate] always achieves excellent results/achievements such as this one. Apart from that, he/she is a fantastic person to work with due to his [interpersonal or communicative skill] and has always delivered significant and vital outcomes to our work.
I exhaustively recommend this person to join your [program or company] as he/she will surely deliver what you are looking for and maybe more. His/her ability, as well as knowledge, is a perfect formula for obtaining excellent results, and you will experience that with him/her as soon as you hire/accept into your [program or company].
Feel free to contact me at any time, and I will back up all my statements here and talk about [Name of the applicant] in more detail. Contact me at [contact information], and I will happily come back to you as soon as possible.
Sincerely,
[Your Name]
The Best 10 Pharmacy Residency Letter of Recommendation Writing Tips to Follow
Tell a Story: Needs to be short and succinct, but a real story is always more convincing and memorable than any statistic or fact.
Be Personal: If you write a pharmacy residency letter of recommendation without giving an idea of how close the candidate was for you, it could end up looking inaccurate.
Be Honest: Never lie or exaggerate anything. Admission committees are always aware of common hyperbolic clichés and lies, so avoid them and prevent issues.
Be Emotional: Surely, this is a professional reference document, but that does not mean you can explain something emotionally at least slightly. It makes the letter powerful.
Be Objective: Even though it is important to be emotional and hopefully transfer it to the person who reads the letter, it is also critical to be objective at all times.
Pick the Right Adjectives: You can be highly objective with your claims, but the strength of the adjectives still matters. "Very good" will never be as powerful as "exceptional."
Back up Your Claims: If you say a person has fantastic communication, explain why with a fact, a story or an experience. Never state something without support.
Give Yourself Time: Don't go to the writing part too fast. Remember to find out as much as you can about the candidate and program, and then write calmly to avoid mistakes.
Write Positively: there's nothing more important than writing a pharmacy letter of recommendation sample that is positive. Leave negative statements out.
Write Correctly: Avoid any grammar, typo, syntax or even slang and incorrect vocabulary. It could make the letter of recommendation look wrong.

Easy Way to Get Pharmacy Residency Letter of Recommendation Writing Help
We will give our best to make your residency letter of recommendation stand out from the crowd thanks to our knowledge, experience, and overall quality as professional residency application writing services. As soon as you tell us to write your LoR, we will make sure it looks exactly like it needs to, so you can achieve your dreams faster. Don't hesitate anymore, tell us what you need and we will make it possible.
Our features and guarantees:
Professional Team: Almost all of our writers and editors are part of the American Association of Colleges of Pharmacy in one way or another. This makes them reliable when it comes to writing a pharmacy recommendation letter.
High-Quality Writing & Editing: Not only they are reliable and related to your field, but they are also experienced in writing and editing. This makes them excellent for a more effective LoR.
Faster Deliveries: Don't wait for days before getting your letter delivered. We can make it happen in just hours without problems. Let us know what you need an receive fast help!
24/7 Support: If you have any doubt or claim, there's nothing better to have someone to talk about it. Contact us at any time, and we will happily reply to your inquiries.
Money-Back Guarantee: We are not a perfect service, so we know we can make mistakes. If something we've made if not of your liking, you can ask for your money back and it will be returned in a matter of minutes.
So, ready for getting the best pharmacy letter of recommendation writing help? Here you have everything you need – so don't waste your time and hire us right now!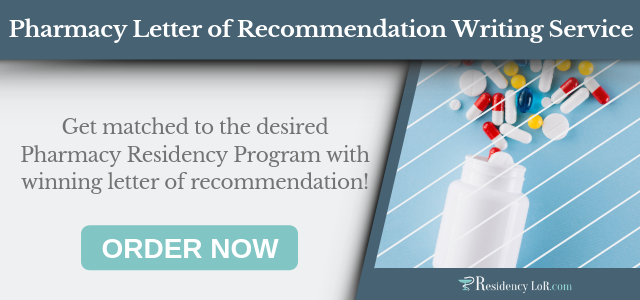 Contact us now and we will increase your opportunities to get matched with our pharmacy letter of recommendation writing services!