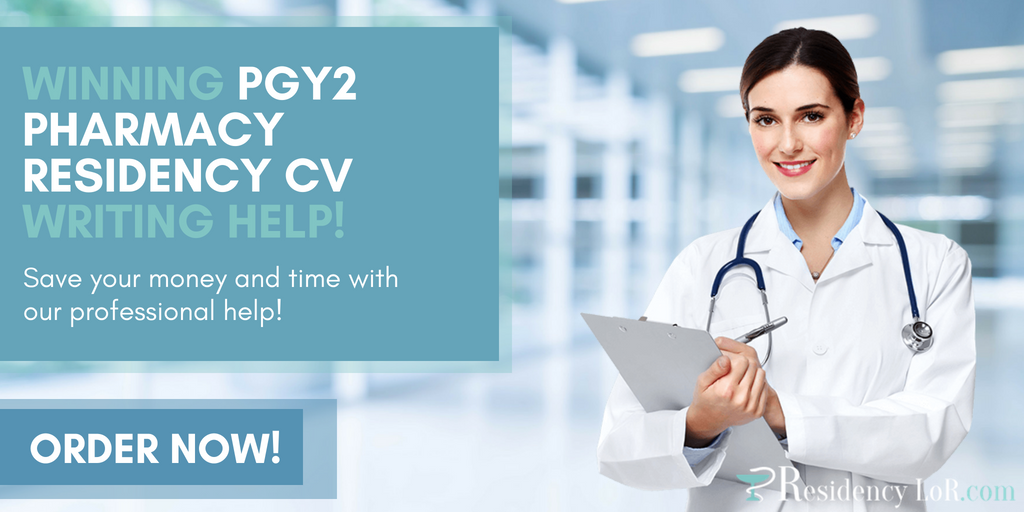 Presenting your CV such as the PGY2 pharmacy residency CV in the appropriate manner can go a long way to determine success, delays or failure in any residency programme application process. The Post Graduate Year 2 residency programme comes after the PGY1 programme for which you would have made use of the PGY1 pharmacy residency CV.
The PGY2 programme helps residency students develop further expertise in specific areas of clinical and medical therapy management.
Difference between PGY1 and PGY2 |PGY2 CV Writing Assistance
Since PGY1 is the foundational aspect of a residency programme it offers general and a broad spectrum of the clinical training while PGY2 allows residency students an opportunity to specialize following particular majors and specialties. So to secure admission you must require a PGY2 CV also see sample letter of recommendation for internal medicine residency.
Areas of Majors or specialization for PGY2 whether for pgy2 geriatric pharmacy residency CV writing or any other area of practice in residency can be found on the website of American College of Clinical Pharmacy. Only successful candidates from PGY1 can run the PGY2 Pharmacy Residency programme.
Requirements for PGY2 Residency Programme & Example PGY2 CV Pharmacy
Cover letter & letter of intent: The cover letter helps introduce you to the institution you intend running your PG residency programme. The letter of intent provides more details about why you find the programme at that institution appealing and the necessary skills you intend bringing.
Post-graduate year 2 CV: PGY2 curriculum vitae help provide a run-down of your professional and academic records to the board. Please see example PGY2 CV pharmacy on our website.
PGY1 transcript: Your academic records from your PGY1 to help show your performance and areas of strength helps guide the accreditation board.
Other Medical results & transcripts: You need to include pharmacy school, board certification and other academic transcripts to help increase your chances.
Letter of recommendation: You require at least to reference letters from work supervisors, preceptors, faculty members or lecturers and individuals who can speak about your performance and personality with regards the programme.
Personal statement essay: A personal statement essay of about 700 words should be included in your application document. It is a document that talks about your skills and personal life experiences over the years and how helpful it could be for your choice of programme.
Application for matching programme: You need to apply early to the matching programme for consideration to your residency school of choice.
How to Write the Best Pharmacy Resident CV for PGY2
Contact information: Include details such as full name, address, cell phone number, email.
Profile: You need to talk about your personal goal and why you want to join the institution. Your pharmacy resident CV for PGY2 should cover the skills and academic abilities you bring and achievements that make you a relevant fit for an RMP. In 100 words or less you can write your profile.
Education qualification: From the most recent, state your academic and professional records including dates and qualifications obtained.
Work history: You could choose to place work history before academic history. But make sure to put the most recent first and only state the relevant work experience.
Research and publications: State the name of your supervisor, include a brief research synopsis and the list of your publications.
Skills, awards, and achievements: They can help increase your chances of acceptance and so you need to identify skills relevant to the institution you seek acceptance into. You could include IT skills and language skills.
Interest: Make sure you acquire interests that bear relevance to the institution or future goals after graduation and these are the interests you should include.
Why Choose Our PGY2 Residency CV Writing Help
Professional PGY2 Pharmacy Residency CV Help
You can get online templates or software for developing a PGY2 residency CV but the difference is that most of them cannot provide the advice you need to fill into the forms or boxes when the time comes. Our team of expert residency CV writers have years of practical experience with writing residency CV and can help you achieve the best.
Institution-tailored PGY2 CV
With years of providing PGY2 CV writing services, we understand the requirements of most institutions and therefore streamline your residency CV in line with your institution of choice, areas of specialization and relevant academic qualification and disciplines.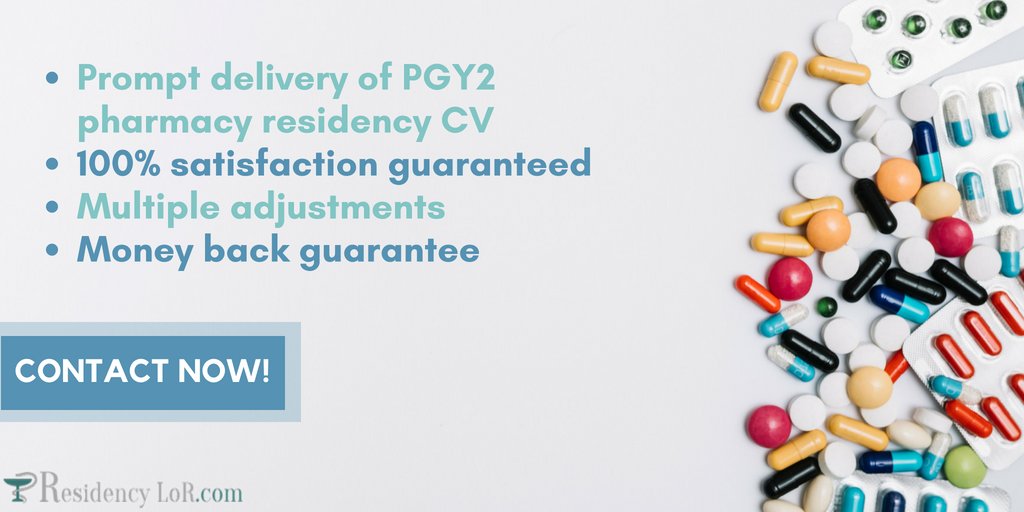 Our Benefits
Get the best PGY2 pharmacy residency CV writing help today and enjoy the following benefits:
Prompt delivery of PGY2 pharmacy residency CV
100% satisfaction guaranteed
Multiple adjustments
Money back guarantee
Free PGY2 residency CV samples
Free PGY2 residency CV formatting
Free PGY2 residency CV advisory services
You can always get access to our professionally written PG2 residency letter of intent example, LoR samples and many more!
Enjoy excellent PGY2 pharmacy residency CV writing help with exclusive discounts when you place today!