A letter of recommendation for family medicine residency primarily supports the candidacy of applicants for either a job or an affiliation with a program. Letters of recommendation for residency must come from individuals who know the applicant well enough to support his or her ability to cope up with the rigors of a medical job or a medical training.
Evaluation of Letters of Recommendation for Residency
Letters of recommendation for residency are assessed by members of the admission committee who look for certain qualities in applicants like: character, commitment to medicine practice, motivation and maturity. Consequently, family medicine LoR from friends and family members are not accepted.
Recommendation letters must be able to articulately express important information about the applicant's qualifications, skills and personality traits. Letters from current and past employers or supervisors, with whom the applicant has worked with extensively, are the ones who can provide an in-depth description of the applicant's inherent traits both professionally and personally.
Other Family Medicine LoR Requirements
Applicants for residency are required to submit three letter of recommendation for family medicine residency. In some instances, a family medicine letter of recommendation that can be obtained from a committee is adequate enough to meet the three letters of recommendation. However, a letter from a medical physician or medical supervisor in addition to the committee's recommendation letter is still mandatory to attest to your professional capabilities.
Submission of Family Medicine LoR
Different residencies require different form of recommendation letters. Family medicine letter of recommendation must come from a family physician whom the applicant has worked with or who has known the applicant fairly well for a certain period.
Writers who know the candidate or applicant fairly well will be able to create an excellent recommendation letter, which is opposed to those who are not acquainted with the applicant either professionally or at least personally.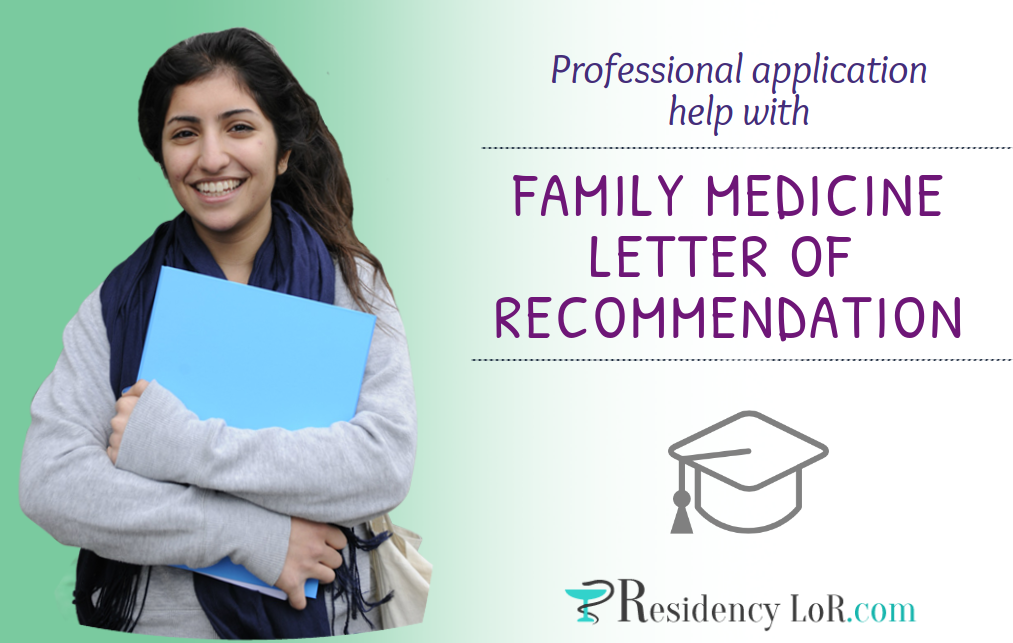 Letters must be submitted on time, which is why applicants need to request their letters of recommendation before the actual submission of their applications. Should some of the sources for the recommendation letters be unable to give the letters on the agreed date, subtly remind them after a day or two. So it is important to give ample time between dates for requesting the letters and taking them for submission. Remember that these individuals are also busy and sometimes your requests are unintentionally overlooked. Once the letters have already been given, remember to thank the writers for writing the letters since this is a favor and not an obligation on their part.
The most essential factor in both the family medicine LoR and pathology letter of recommendation is the field of specialty of the applicant. All or almost all the skills and qualifications indicated therein must be relevant to the specialty program being applied for. Any discrepancy must be eliminated early on by providing adequate and updated information for the recommendation letter writers.
Since letters of recommendation are vital parts of the application process, applicants must takeeveryy effort to complete and submit them on time along with the other important documents for the application.
So if you need a professional family medicine letter of recommendation, get in touch right away!