The Importance of Your Letters of Recommendation
Residencies are very competitive to get onto and a requirement if you want to finally be licensed to practice medicine in your specialty area. Fail to get onto a residency and you could have to wait a whole year to try and get onto a program again. Your letter of recommendation for fellowship program or residency can make a huge difference to your chances of getting interviewed. So you may be wondering if a residency letter of recommendation joke is appropriate for your application.
There are more than 37 thousand applicants to residencies each year according to the data provided by the National Resident Matching Program. However, more than one in five will not be placed in any residency despite many applying to 20 or more programs. So it is clear that you will have to spend some serious time and effort on your applications to ensure that you get matched to a place.
Residency Humour
Learning to practice medicine as a resident and even if you are fully fledged and licensed doctor can expose you to some very funny situations. There are many funny residency jokes that you may hear but you should take care before you use any of them within your personal application.
Some of the funny stories that you will hear will revolve around incidents with patients and other residents such as the following:
The patient that returned from the cubicle with an empty sample bottle remarking that there "was a toilet in there so they didn't have to use the bottle!"
The resident that bumped heads during surgery with the surgeon and jokingly remarked about "a meeting of the minds". Only for the surgeon to reply that they "felt so alone".
Then, of course, you have the badly written notes such as the genital examination that revealed that the patient was "circus sized".
You may also want to know how to reply when picking up the phone and the caller asks "I have just has an autopsy and I would like to know my results".
You can always comfort that nervous patient by letting them know that you have just watched how to perform their procedure on YouTube.
Of course, you may also want to check out all of our residency meme selection for an additional dose of funny residency jokes to help you through your day:
Should You Use a Residency Letter of Recommendation Joke?
While a funny residency letter of recommendation my tickle you, it may not always be well received by the members of the admissions committee. Most will be expecting the recommender to take a serious approach to your application and to receive something humorous may simply be too much. So great care must be taken if you are to use any form of humor within your letter, although wisdom would suggest that you avoid it altogether.
You also have to be careful that you do not offend with any form of humor. What might sound innocent to you may be found as offensive by many others. A funny residency LoR could therefore backfire and lose the applicant any hope at all of gaining an interview.
Tips for Writing an Excellent Letter of Recommendation
Getting an excellent letter of recommendation firstly requires you to choose a recommender that you can rely on to provide a letter that will be capable of selling you well. So if you ask someone if they can provide you with one and they decline it is best to move on to the next person on your list as a poor LoR is not going to do your application any good at all.
Your recommender should be:
Someone that knows you professionally or educationally and will be able to assess you through their personal knowledge.
Not someone that is a personal friend or member of your family.
Is based in the specialty that you are applying into.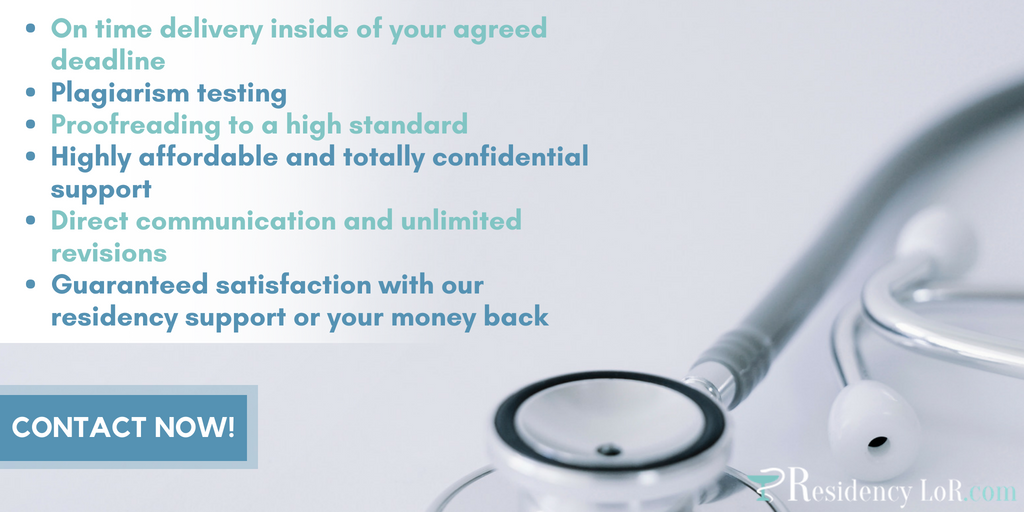 The following tips will help you with writing an excellent letter of recommendation ECFMG or any other residency LoR whether you are writing your own for the recommender to endorse or you have been given the honor of providing one:
The introduction should detail who you are and how you know the applicant and for how long. You need to show that you have been in a position to be able to judge their performance. Include your own titles and appointments to lend weight to what you have to say.
The main body will contain your assessment of the abilities of the applicant relevant to the program that they are applying to:

Ensure that your comments are relevant to the actual application, don't talk about their skill as a basketball player for instance.
Do not use vague or unsupported comments: use clear examples of what they have achieved to demonstrate their abilities.
Where possible quantify what you have to say about them, for instance, if they were in your top 10% in the class.
If you do have to mention a weakness try to frame it in a positive manner such as "they have demonstrated improvements in…"
Do not exaggerate on behalf of the applicant or try to make them sound better than they really are as this will not help them in the long run.

The conclusion: this should summarize the positive points about the applicant and make a clear recommendation to the program they are applying to.
A good letter of recommendation will usually run into a second page if you have something positive to say about the applicant. Less may be seen as a red flag to some committee members. If possible a real signature will add weight to the letter.
How to Get Support with Writing Your Letter of Recommendation
We offer a professional and highly reliable service for writing your letters of recommendation. Our writers work within the specialties in which they themselves are qualified and have experience and have many years of experience with writing LoRs. They work directly with you to ensure that your letter will be highly focused and tailored to the application that you are making.
To start the process you just need to complete the order form that you will be able to find on our website. Our site is available 24/7 to process your orders and our pricing is some of the most competitive you will ever find. We provide carefully drafted unique letters and will always deliver them to you on time after our free proofreading to make sure they are free from any issues.
If you are not sure if you should make a residency letter of recommendation joke or simply need help with any part of your ERAS application just get in touch with our highly skilled experts here today!